The Oakleaf Golf Complex has launched a special nine-month membership package.
Golfers can now enjoy nine months of unlimited golf for the price of eight, with prices starting from only £225 for a seven-day adult membership.
While the weekday green fee special offer between 1pm and 5pm offers a round of golf for only £10 for adults and £7.50 for concessions.
Oakleaf Golf Complex is a scenic and picturesque parkland 18-hole course with undulating hills and nice rural views.
It's a relatively short course, with total distance of 5,217 yards and a par of 69 off the yellow tees.
However the tight fairways and tricky greens will test your short game to the limit, and with all sorts of natural hazards to negotiate, the course presents a challenge to test even the most experienced and assured golfer.
A good club choice and pin point accuracy from the tees are required to negotiate this course successfully.
The course is also ideal for beginners, women and junior players with a shorter distance of 4,782 yards available off the red tees and coaching available from our resident golf professional.
The course ranks highly amongst the municipal courses in the North East and you would be hard pressed to tell it apart from a private members' club, with well-maintained fairways and greens.
Opening hours are 7am to 8pm weekends and 7.30am to 8pm weekdays.
Pricing is very competitive, with membership prices among the lowest in County Durham and discounted rates for over 60's and juniors.
Pay-as-you play visitors are also very welcome and green fee prices are very competitive, starting at £13 per round with various special offers in place offering further discounts and value for money.
The facility has the added benefit of an 18 bay floodlit driving range, with multiple targets and nets and distance markers. Prices are very reasonable at £2 for a small basket and £4 for a large basket of balls.
There is also a fully-stocked golf shop, buggies for hire, practice area, lockers, changing rooms, showers and toilets.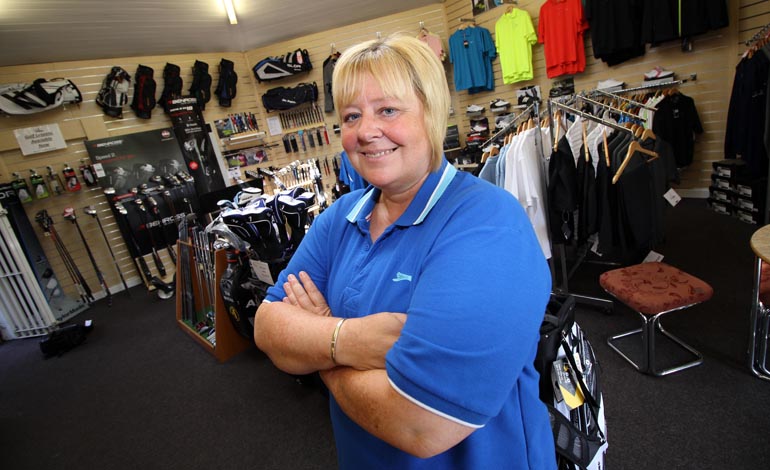 A warm and friendly welcome is assured from resident golf professional Julie Welch (above) and her experienced team, who also provide a range of coaching opportunities to help improve your game.
Visiting parties and corporate groups are most welcome and several competitive and flexible packages are available.
Great hospitality is available in the adjacent Oak Leaf Sports Complex bar and restaurant which offers a range of meals and drinks to round off your game of golf.
Call 01325 310820 or visit www.greataycliffe.gov.uk/oakleafgolfcomplex for further details.