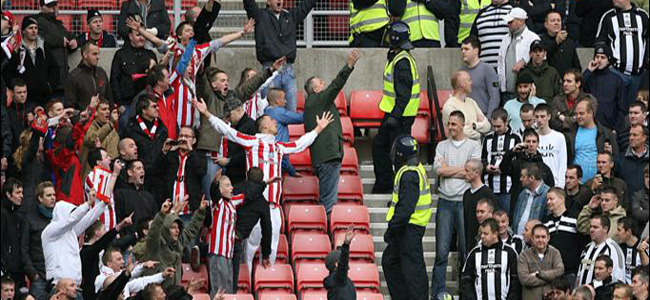 By Paul McGeary
The region will be divided this weekend when the small matter of the Tyne-Wear derby takes over the day – and ensuing weeks – for tens of thousands of Magpies and Mackems alike.
For 90 minutes, friendships will disappear out of the window, while the wake of the game will provide one set with the bragging rights over the other when their differences are patched up come 2pm on Sunday.
Aycliffe Today collected a group of supporters, from both fraternities, and asked them to regale their Derby Day experiences, and put them on the spot as we probed them for a prediction of how this weekend's big clash will pan out.
• Paul O'Connor is Sunderland born-and-bred, but since the age of 11 has resided in nearby Ferryhill. A season ticket holder at Sunderland since the Roker Park days, he shares with us his memories…
Earliest Derby Day Memory…
'96 at Roker Park. Away fans were banned but there were definitely some strays 'cos we heard them celebrating when they scored…twice! I think we scored a penalty, but the Mags won.
Derby you'll never forget…
The 'one in the rain.' Super Kev scored that goal. A poor touch took him wide (the Mags gave him pelters, which made it sweeter) but he looped it into the top corner over Tommy Wright. The same game saw Bally [Kevin Ball] hit our own crossbar with a slide tackle, right at the death! I watched it at the Stadium of Light on a large screen beamback. We won 2-1.
Derby you'd love to forget…
Last season, at their place. We just didn't turn up. Enough said on that. I've forgotten about it!
How will Sunday go…
It should be tight. The Mags have had a great season to be fair to them but (barring last week) we're in great form. I'm biased, but I think we'll edge this one, 2-1!
• Lee Ramage is 23 and knows nothing other than Sunderland AFC. And I mean nothing! On Monday morning Lee will return to work at the Aycliffe factory Husqvarna, hoping that he can keep his head held high. Here's his thoughts.
Earliest Derby Day Memory…
Probably the 2-1 in the rain, can't remember too much about it though to be honest, where or if I even watched it.
Derby you'll never forget…
The 2-1 at home, or the 1-1 at home, the quarter past 5 kick off, that was unreal that game, everyone was leathered!
Derby you'd love to forget…
Forgotten it already!!
How will Sunday go…
3-1 Newcastle
• Bryan Levey is black and white, though just black in his opinions of Sunday. Here's what he has to say…
Earliest Derby Day Memory…
Fresh from moving to Newcastle from Dunfermline as a six-year-old, I don't think I had quite grasped the enormity of the first Derby I can remember. Although I wasn't there, I can remember the radio coverage and subsequent reports of the Mackems winning the 2nd leg of the 1990 playoff semi final at St. James'… not the best first taste of Derby action!
Derby you'll never forget…
Never forget the 1-0 home win against Sunderland in the 1992-93 promotion season. Monsoon conditions, people sweeping water off the pitch before kick-off, Sellars' free kick and celebrations that followed – all caught live on Tyne Tees! Magic!
Derby you'd love to forget…
1-2 defeat at home 1999-00; Gullit, Shearer, Ferguson, Robinson – what a mess!
How will Sunday go…
2-1 if Sessegnon plays, 2-0 if he doesn't!
• Dave O'Hara won't mind me saying he's more of a veteran of the Derbies than the rest of this cluster, meaning he has much, much more to share with us. As Sunderland fan Dave prepares to return to work at Ineos on the town on Monday, he had this to share with us…
Numbers one to three are history!
How will Sunday go…
2-2!
• Aycliffe resident Jonathan Clarke has been a season ticket holder at Newcastle for the past few years, watching them in the Premier League to the Championship and back again. What does he have to say, read on…
Earliest Derby Day Memory…
I can just about remember the 1-2 at St. James' with Gullit in charge, although the main thing I can recall is the fallout rather than the match. Gullit putting Shearer on the bench, Brucey would be proud of that one! Was a defeat but the catalyst for our revival over the next five years.
Derby you'll never forget…
Easiest question ever, 5-1. Absolutely tortured them that day.
Derby you'd love to forget…
2-1 defeat at their place in the relegation year. Our team was a pathetic ensemble of over the hill (Butt), overweight (Viduka) and overpaid (all of them but mainly Owen) and the inevitability of the defeat was the worst thing to contend with. Was the only period since I've been watching where they were categorically the better of the two sides. Bearing in mind they had El Hadji Diouf and Pascal Chimbonda in the side that shows how bad we were that year.
How will Sunday go…
If you'd asked me two months ago I'd have said 5-0, if you'd asked me two weeks ago I'd have said 0-2. So I'll sit firmly on the fence in the middle and go 1-1. Both sides are Jekyll and Hyde so it's a hard one to call.
• Jeremy Forster is another who watches football through his black and white tinted spectacles, but we thought we'd give him a few paragraphs to try to convince us. Here's what he said…
Earliest Derby Day Memory…
Earliest derby remember properly is 1996-97. I remember Sellars scoring the winner when we got promoted but probably more from seeing it years later than at the time. I was 12 then so can't say I recall everything about it. First Premier League Derby was obviously when away fans were banned so atmosphere was strange and it wasn't a great game, silence when Mackems scored was eerie. Judging by some of Sunderland's recent crowds I imagine it's similar there now!
Derby you'll never forget…
Best derby I've been was the 1-4 at their place. Hilarious for various reasons. We were awful first half and Sunderland should have been further ahead, weren't much better early in the second half but a goal from nothing, quickly followed by two more saw an incredible turnaround. You'd think Luque scoring, running from near enough the halfway line without ever having the ball under control, and Shearer scoring in his last appearance would be the highlight but the real moment of the game came well after the final whistle. A Mackem groundsman took umbrage to the taunts of the away fans, threw all the corner flags onto the floor and having to be restrained by another groundsman. With the whole away end now wetting themselves he took off his jacket, threw it to the floor and stormed off like a three-year-old. One of the funniest things I've ever seen, until Paul McShane's performance at St. James' a few seasons later.
Derby you'd love to forget…
Least favourite for me has to be 1-1 at home the season we went down. I remember after the game saying there's no way this side will stay up. They were poor and we were even worse, they should have beat us and it was a terrible Newcastle team. The two home losses (in the rain and year after when Shearer missed the penalty) were bad but you knew this was worse.
How will Sunday go…
I'd be lying if I said I was confident about Sunday. We haven't played well for a while now, few results have papered over some cracks, but equally I don't think Sunderland are as good as their recent form suggests. If they play one up front, which they would have cried about had Bruce done it, the first goal will be all important. If they score it, they're quite negative and we might struggle to break them down but if we scored I'd say we'd go on and win handily. I'm hoping they go two up top which would play into our hands, we've got much more quality in middle of midfield and I don't think their back four is great if you can get at them. 3-1, I can see them getting a goal which might mean they don't go home at half time again.
• Finally, Newtonian Richard Ingman turned his back on the Premier League and Sunderland a few seasons back and instead favours to watch the Northern League these days, but he can't help get bitten by Derby fever when this fixture comes around. Still a staunch Mackem, here's his memories…
Earliest Derby Day Memory…
1979, Gary Rowell hat-trick at St. James' when we beat them 1-4. I was only 10 at the time, but remember watching it on Shoot!
Derby you'll never forget…
August '99 when we beat them 1-2 at St. James', Shearer on the bench, Quinn and Phillips in full effect! I was on holiday in Aiya Napa Cyprus at the time, and couldn't find out the result. Early the next morning I saw a lad in a Sunderland top like mine and he just shouted "Get in there" with a big grin. I still didn't know the score, but it was enough to know we had beaten them.
Derby you'd love to forget…
The 5-1 last season. It's one thing getting beaten, but that was a very poor performance. Agent Bruce was given the freedom of Newcastle for his undercover sabotage that day. From that day forward NUFC forums are full of the word "5under1and!"
How will Sunday go…
First goal vital as ever. If Sunderland can get it we may be able to snuff them out and make it over the line for a 1-0 win. If they get one, they might end up getting a few. Head says 3-1 heart says 0-1.
So that's the view of some, now what's your thoughts and memories? Feel free to use the Feedback facility below to share your Derby Day experiences with us…