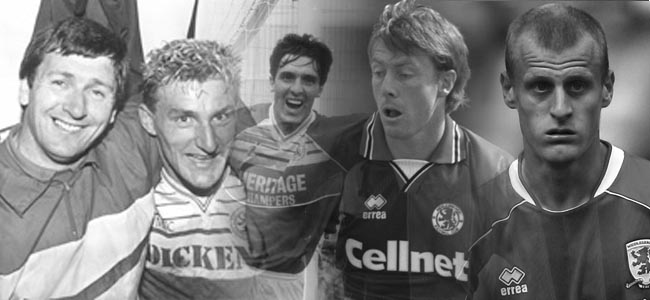 Tony Mowbray, David Wheater, Bernie Slaven, Craig Hignett and Stan Anderson will be joined by former Boro boss Bruce Rioch when Middlesbrough Former Players Association hosts Six Decades of Boro Stars on the night of Friday October 26.
Rioch will be one of two former Boro and Bolton managers attending an event taking place the night before Middlesbrough host Wanderers at the Riverside, with Stan Anderson also on the guest list.
Also added to a list of 20 former players attending the night are 1970s forward Hugh McImoyle, rated by many as the best header of the ball ever to play for Boro, and 1960s goalkeeper Bob Appleby.
While Bolton's injured ex-Boro star Wheater, Boro boss Mowbray and first team coach Mark Proctor will represent recent times at the dinner, stars of the last six decades will be in attendance, including 1950s forwards Alan Peacock, Arthur Fitzsimons and Billy Day.
They will be joined by 1960s stars Gordon Jones, Ian Gibson, Geoff Butler, Appleby and manager Anderson.
Present day coach Proctor, who played for Boro in the '70s, '80s and '90s will be joined by McIlmoyle and former team-mates, England midfielder David Armstrong, goalkeeper Jim Platt, attacking left-back Ian Bailey and jinky winger Terry Cochrane.
Striker Bernie Slaven was the club's top scorer in the 1980s and '90s, while Craig Hignett scored nearly 50 goals between 1992 and 1998.
The Riverside Stadium's Legends Lounge will be the fitting venue for the night of football nostalgia.
Former Players Association secretary Platt said: "Our dinners are always great nights of nostalgia and laughter. We are particularly delighted that the Tony Mowbray, Bruce Rioch and Stan Anderson, as managers of the present and past, have agreed to join us as very special guests.
"For the supporters, it's a great chance to meet their heroes, get photographs and autographs or just sit back and enjoy football tales of the past."
Tables are being snapped up fast for what promises to be a great occasion for Boro fans of all ages, with a three-course dinner followed by a question-and-answer session with the Boro heroes.
With 'Voice of the Boro' Alastair Brownlee as MC, the night will also feature a prize raffle and special auction featuring many superb MFC-related items, several signed by past and present Boro heroes. The event starts at 7pm with dinner at 7.30pm. Dress code is smart casual.
Tables of 10 are priced just £350, with individual tickets £35 each. All funds raised will go towards helping former Boro stars who have fallen on hard times together with a wide range of Teesside charities and good causes.
To book, call Middlesbrough FC sales team on 01642 757657 or email [email protected]
For more details about the Former Players Association, visit www.middlesbroughfpa.com