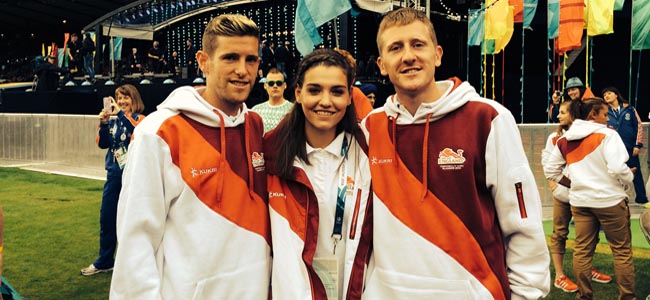 By Zoe Skerrett
Newton Aycliffe distance runner Kate Avery recorded a personal best time to finish fourth in the women's 10,000-metre finals at the Commonwealth Games in Glasgow.
Now the 22-year-old former Woodham Academy student has her eyes on the 2016 Olympic Games in Rio.
Kate discovered her love and passion for running after winning cross-country competitions for the districts and counties during her time at Woodham.
She took up running outside of school at Shildon Running and Athletics Club and it quickly became a serious part of her life – her first competition was in 2004 at the age of 12.
As she progressed and grew more confident she began to compete in bigger, more challenging races and advanced her way through both national and international races.
Kate got the Team England call-up for the Commonwealth Games this summer, her first senior appearance at a major championship event, just a week before she was due to race after Jo Pavey opted to only run in the 5,000m distance race.
She describes the Commonwealth Games as the best experience she's ever had and is ecstatic that she managed to beat her personal best with a time of 32:33:35 which shaved nine seconds off her previous record.
"It was unbelievable!" Kate told Aycliffe Today.
"I've watched the race back and the television just doesn't do it justice. The atmosphere is so different when you're actually there – it's just unbelievable.

"There was just a huge wave of noise following us as we were going around which spurred us on."
The final few metres of the race were tense as she overtook Scottish runner, Beth Potter with a sudden burst of energy and aspiration to beat her. Fellow England runner, Sonia Samuels, finished 24 seconds behind Kate in seventh place.
Three Kenyan runners, Chepkirui, Kiplagat and Chebet who had less than a second between them, took the medals.
Currently, Kate is studying at Iona College in New York, United States for a track-and-field scholarship but her main goal is to compete in the Rio Olympics 2016.
Last year she claimed the silver medal at the European Under 23 Championships and also beat her outdoor personal best in the 3,000m race at the European Team Championships in Germany.
Kate describes her coach, Tony Simmons, as a massive inspiration to her. He represented Wales and England in many races, competed in the 1976 Montreal Olympics for the finals of 10,000m and won silver medal at European Athletics Championships in 1974 after finishing four hundredths of a second behind the gold medallist.
Kate is currently looking for any kind of sponsorship. Email [email protected] and we'll pass on your details.