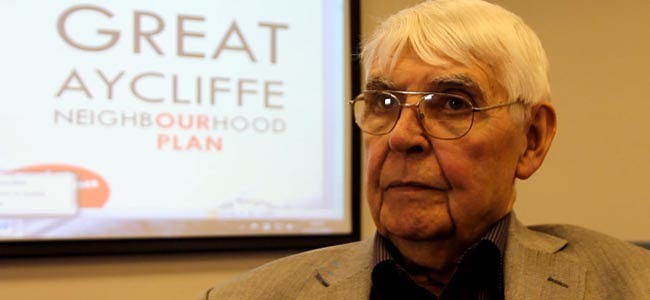 By Martin Walker
A councillor says he doesn't want to see a retail park in Newton Aycliffe.
Great Aycliffe Town Councillor Brian Hall, who is chairman of the Neighbourhood Plan steering group, points to the new Bishop Auckland shopping park at Tindale Crescent which he claims has decimated its town centre.
Cllr Hall had a shop in Aycliffe for 25 years – Hall's Fabrics – and insists Aycliffe's shopping centre is much-improved after its owners spent £7m on it in recent years, with more to come.
The people of the town can have their say about retail provision in the Town Council's Neighbourhood Plan survey.
In a Video Interview with Aycliffe Today, he said: "There's an example not very far away where they've built a new shopping centre. It grew from Sainsbury's and snowballed from there.
"I did say to someone that it would affect the town centre, and they said no it won't. Well I had a walk through Bishop Auckland town centre about a fortnight ago and I was astounded by the difference it's made to that place.
"We talk about empty shops in Newton Aycliffe, it's horrendous in Bishop. M&S has moved out of town, all the big stores are going.
"You ask businesspeople in Bishop if they welcome a new shopping area, and I think it would be unanimously no.
"I don't want to see that in Newton Aycliffe. These retail parks do affect town centres, regardless of what people say."
Disagree with Cllr Hall? Well you have the ideal opportunity to have your say in the Neighbourhood Plan survey.
And you don't need to complete the whole survey – just the sections you feel passionately about!
Simply download the survey form by clicking here, complete it and either:
• Save it to your computer and email it to: [email protected]
Or
• Print it off and send it to: GATC, School Aycliffe Lane, School Aycliffe, Newton Aycliffe, County Durham DL5 6QF.