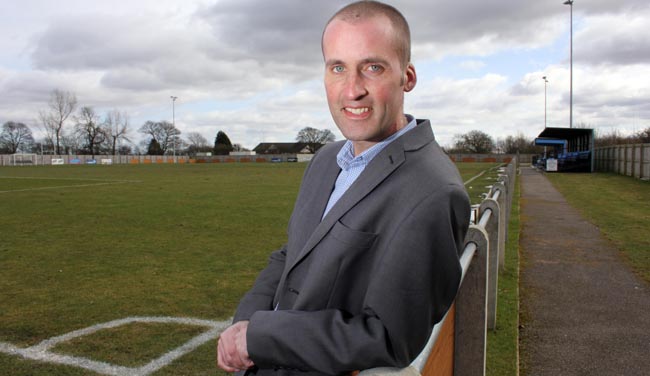 By Glen Robertson
Newton Aycliffe FC's general manager Dan Lewis has called on the people of the town to get behind their football club as the Royal Blues look to avoid a first-ever relegation.
The Newtonians have climbed three rungs on the Football Association's non-league ladder since they competed in the Durham Alliance five years ago.
Three promotions in four years saw the club reach the Northern League first division in 2012, where they compete alongside semi-professional heavyweights such as Bishop Auckland, Spennymoor, Whitley Bay and West Auckland.
This year has seen former Football League sides Darlington and Durham City join the division, creating some mouthwatering match-ups at Moore Lane Park, but the attendances have dipped.
From attracting a crowd of 567 against Darlington RA while a second division club, the Newtonians were watched by just 70 as they were beaten by Durham in midweek.
The club have made moves to try and bring a new generation of supporters to Moore Lane Park by allowing under-16s in for free for the remainder of the campaign when accompanied by an adult, beginning with this Saturday's game at home to Bedlington Terriers.
And general manager Lewis has a message for the people of the town.
In a Video Interview with Aycliffe Today, he said: "We're still here. We're fighting to make sure this town still has a Northern League first division club which we strongly believe it merits and deserves.
"We've launched a number of initiatives, including the kids go free for the rest of the season so hopefully we'll have a number of kids here on Saturday afternoon.
"The weather looks reasonable so it's a nice opportunity to come down and bring the kids along and, hopefully, we can attract a new generation of kids.
"We've got nine home games left, which are really important to us to maintain our first division status, and we need as much support as we can."
Click here to read our interview with Lewis in full.