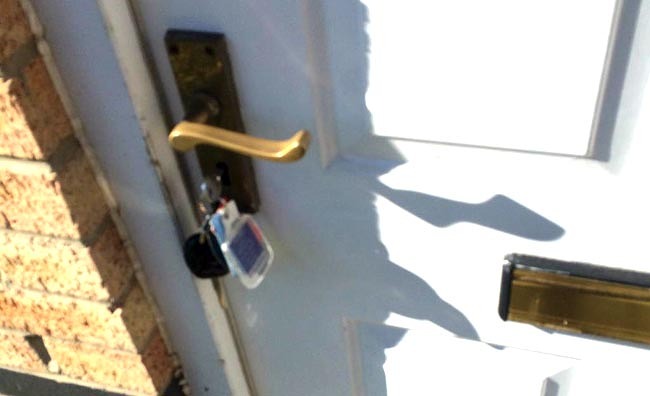 By Martin Walker
Newton Aycliffe police chief Mark Edwards has told Aycliffe Today he feels like banging his head against a wall when it comes to lackadaisical householders on the town.
In his blog on Aycliffe Today, Aycliffe's Neighbourhood Police Team Sergeant says residents are making it too easy for opportunistic burglars to strike.
While officers were responding to an incident in the Merlin Court area of the town last Friday, they came across a home which had its keys in the lock on the outside.
Sgt Edwards was writing about so-called "two-in-one" burglaries – when criminals enter a home, take car keys and make off with vehicles.
"Aycliffe has seen a steady rise in crimes of this nature lately," he said.
"We have just responded to calls that a silver Toyota Yaris had collided with parked vehicles in the King's Drive area and two persons (one male, one female) made off from the car.
"Enquiries soon revealed that the Toyota Yaris had been stolen with keys from a '2-in-1' at Merlin Court either late last night or during the early hours.
"This is the same thing we see with the majority of '2-in-1' crimes – entry into the property has almost always been effortless with doors left unlocked.
"This is the thing that makes me, as a police officer, want to smack my head off a wall.
"We try and push the message – via the press, via social media, leaflet drops etc.
"During the subsequent enquiries that followed after the stolen vehicle was recovered by police, colleagues of mine were conducting house-to-house enquiries in the area of Merlin Court.
"Considering the nature of the crime under investigation my officers were alarmed to be confronted by a set of house keys hanging out of a door lock!
"This is the constant battle that we are enduring. I would rather take on the actual criminals themselves rather than have to address the complacency of many victims-to-be!"
Click here to read Sgt Edwards' blog in full.