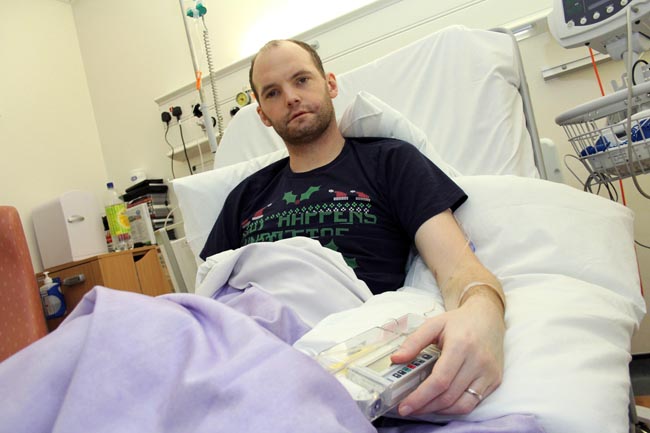 Newtonian and Aycliffe Today writer Paul McGeary is writing blogs from the bedside during his battle with leukemia…
Bruised Ego
November 7th, 2014. My 33rd birthday. A small bruise appears on my forearm, innocuous blemish. Never mind that, there's a curry and a few beers with my name on, let's go. The following day, a matching bruise on the opposite arm – perhaps one too many beers the night previous and a stumble into the back door as I searched for my key.
Ensuing days bring ensuing bruises until eventually I succumb and agree to visit the doctor – an act I have previously avoided with extreme precision. Friday 21st November the GP calls for blood tests – I'm thinking Anaemia, but I'm no expert – and on Tuesday 25th, bloods are taken and I'm sent on my way with little to worry about…until that 1am phone call!
A rollercoaster 48 hours follows (you'll be sick of that part of the story; literally – but I'll save that for another time) and eventually after some follow-up bloods, a bone marrow extraction and a shattering delivery of the words "you have an acute form of Leukaemia" I'm whisked to James Cook Hospital in Middlesbrough on the evening of Friday 28th November – not quite curry and beers this time.
What a difference three weeks makes.
The Mathematician
"Acute" Leukaemia. Well, that's small, it can't be that bad. I could have been diagnosed with Obtuse Leukaemia, or even worse, Reflex Leukaemia, but evidently acute in this form means aggressive and in the three weeks since the bruises have appeared, the Leukaemia has taken its hold. I'm here to be cured, but I have a long road ahead of me. "60-90 days you'll be with us Paul," says my Doctor. "Yet it's Christmas in less than 30 Doctor," is my reply.
I've done my Maths, and even I know cancer doesn't take compassionate leave; a shattering blow. More Maths follow, and a success rate of 90% brings joy to the room, and with my head now firmly round what's ahead of us all, the long journey begins.
A Sign of the Times
Not one for White Knuckle Rides, the word rollercoaster has suddenly become staple in my vocabulary. "Ups, downs, highs, lows…" the list goes on. The phone never stops. Messages, Tweets, calls, emails – the support network is growing and I know I'm in safe hands. I know I'm going to get through this.
Then I think of Niamh, and Becky, mam, dad, Thomas and it takes me back, down that sheer drop of fear on the emotional rollercoaster. There's tears, followed by smiles. More tears and more smiles. Then there's a night of turbulence which acts as a reminder that amongst all other things going on, I need to fight this too, it's down to me. I need to give this everything I have, dragging all that support from around me inwards to fend off this horrible killer. I must remain strong and face this. A good friend of mine has devised me a hashtag to see me through this, and those words remain with me every day – #NotOneInch
The Band
One question I get a lot from visitors is "How's it all going to play out then?" They don't mean will I survive or not – I've already promised everyone I'm coming through this – what they're getting at is where does the reality fit in between the stereotypical image of the vomiting, balded (yeah, yeah, we'll get there) cancer patient and the one they see in front of them in the bed every night they come to visit me. "You're looking well." "When does it hit you?"
Now at this stage I must apologise to anyone who has been affected by cancer in any way and this is serving up bad memories. Each and every patient is different as I've been told, and I'm in no way professing to have this one cracked. As I've said, I've had my ups and downs already, and this rollercoaster isn't letting me get off just yet, so there's plenty more on the horizon.
So, how is it all going to play out then? Well, my band, as I've alluded to. Day-to-day, I'm hooked up to a drip, feeding several fluids and replacements into my body – plasma, cryo, antibiotics, vitamins, flushes, you name it, I'm sick of asking. On top of this, twice daily I am presented with a plethora of tablets, varying in sizes, numbers and colours. The amount of which is all dependent on a blood sample which I give twice daily. I analogise this as my 'Backing Vocalists' – the essential hum to keep the song on track, keep everything in rhythm. Then, beginning Monday 1st December (returning Wednesday, Friday and finally Sunday) is my front man. The swagger. The Liam Gallagher, the Ian Brown. That obnoxious genius, with not a care in the world. I refer to my Chemotherapy injection as the front man because amidst all the great work the non-assuming backing vocalists are doing, the front man just blows his way onto the stage and performs for everyone in front of him – the one thing in the whole performance for why we have all turned up. The front man isn't there for a long time, he's there for a good time. And in what may well be a poorly weaved analogy, my front man rocks up for about 20 minutes every other day and blasts a headliner out and disappears back into the night, knowing his work here is done.
The Cycle
So, Friday 5th December, the front man is due on stage for his third performance of four (closing show on Sunday) this week, before he takes 10 days off. Picture this – the faceless backing vocalists are on stage for the full 60-day tour, my front man comes out on day one, day three, day five and day seven. 10 days off, give-or-take, then he comes back out on day 17, day 19, day 21 and day 23 before another 10 days off, give or take. Four cycles of this, and that brings us into our 60-90 days window. There will be days in between where the work of the backing vocalists will be tested, as my immunity is questioned, and there may be days when the front man gets called back on stage earlier than expected, providing my immunity has stood up to the test. There is even a sneaking whisper that respite care may be an option at home for a day here or there, or even a full period between bouts of Chemotherapy. In truth, I feel much safer here, knowing that if the rollercoaster does look like it's about to derail, the response team is on hand, and not 40minutes down the A19. Small sacrifices on my very large journey.
– Ends –
Paul McGeary; Ward 33, James Cook University Hospital, Middlesbrough
Please stay engaged with my journey and try to draw any inspiration from it, whatever your own individual fight is. Support me every step of the way by reading my Blog entries, and keeping in touch via my Twitter feed @PaulMcGeary – your support so far has been overwhelming, and played a huge part in me reaching my one week milestone. I'll have ups and downs, but knowing you're all there when I eventually get off the rollercoaster, just makes the journey that little bit more comfortable for me. Thank you.
#NotOneInch