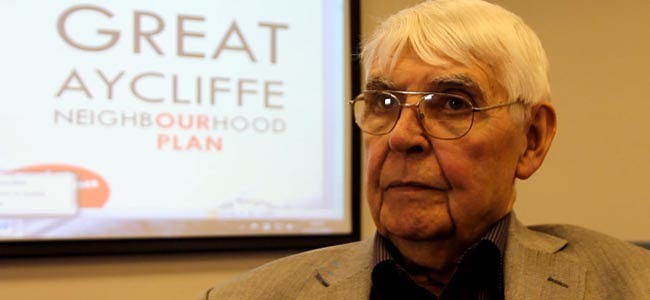 By Martin Walker
It isn't too late for Newtonians to have their say in the Great Aycliffe Neighbourhood Plan.
Three lucky residents landed a windfall after they were picked out as winners in the Neighbourhood Plan cash draw this week.
But people still have until 17th November to email their completed forms to the council – the forms can be downloaded here.
Aycliffe have had nearly 800 responses so far but would like to get more.
Great Aycliffe Town Councillor Brian Hall, who is chairman of the Neighbourhood Plan steering group, provoked a healthy debate on our Facebook page this week when – speaking as a former shopkeeper – he said he didn't want to see a retail park on the town.
It is, of course, all about opinions, which is why GATC want to hear from residents.
The Neighbourhood Plan, if passed, will be submitted to Durham County Council and will help to shape planning policies relating to issues from the environment to retail.
Cllr Hall told Aycliffe Today: "I wish everyone would fill the form in, because it's the onl way we'll get to know the feelings of the people.
"I would think environment and retail will be at the top of people's lists, but we need to hear from as many people as possible."
Cllr Hall says the people of Aycliffe can help to secure the green and spaces in the town if they contribute to the survey.
"The open spaces we have in Aycliffe is great," he said. "Other towns and cities wish they had the open spaces and grass that we do."
To take part in the survey,
download the survey form by clicking here, complete it and either:
• Save it to your computer and email it to: [email protected]
Or
• Print it off and send it to: GATC, School Aycliffe Lane, School Aycliffe, Newton Aycliffe, County Durham DL5 6QF.