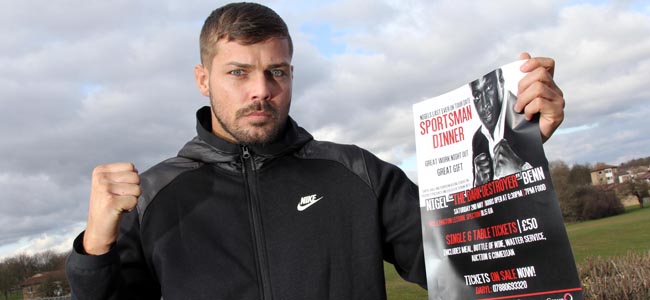 By Martin Walker
Boxing fans have a rare chance of getting up close and personal with ring legend Nigel Benn at a special event.
All-round semi-pro sportsman Daryl Hall, from Newton Aycliffe, is bringing the boxing legend to County Durham for a sportsman's dinner at Willington Leisure Spectrum in May.
It's one of only three public appearances Benn, now 51, is making in the region before returning to Australia where he currently lives.
Benn, known as the Dark Destroyer in his heyday, is a former WBO middleweight champion and WBC super-middleweight champion, and became famous for his clashes with Chris Eubank in the early 1990s.
The Ilford-born former British Army soldier is due to appear in Hartlepool and Middlesbrough before his final event at Willington on Saturday May 2.
Hall, currently a semi-pro footballer with West Auckland and a semi-pro Thai and cage fighter, said: "I know a few lads who put these shows on and I've never seen any in our area.
"It always seems to be a travel to go and see them, so it's a bit of a coup for County Durham.
"It's a great opportunity for the boxing fan. He's a legend and has a real story to tell. People who aren't that into boxing know Nigel Benn.
"But it's also a good chance for all sports fans to see a real legendary British sportsman. I can't wait to listen to him."
Hall, from Newton Aycliffe, is well-known on the Northern League football circuit having had stints with Shildon, Crook, Sunderland RCA and Morpeth, and has spent the last six years with West Auckland which has included two FA Vase finals at Wembley.
Hall juggles his football with boxing, and he added: "I started boxing when I was 10-years-old. I was OK at it, but I had a choice to make between boxing or football and I went for the football.
"I left it but then I was asked to take part in a boxing fight recently and it was something to train for, and it went from there.
"Then I've taken part in a few Thai and cage fights. It's more a fitness thing, but for me there's no point training if you're not going to compete.
"It's a great sport and I'm really looking forward to bringing Nigel to the area for what should be a cracking night of entertainment."
After his boxing career, Benn became an internationally recognised DJ and appeared in the first series of the ITV reality TV show I'm a Celebrity… Get Me Out of Here!.
Benn, who has since developed a strong faith and is a born again Christian, now lives with his family in Sydney, Australia, where he has been studying theology, sports coaching and sports development.
• Tickets for the Nigel Benn dinner on Saturday May 2 are priced £50, which include a meal, bottle of wine, water service, an auction and comedian, and are available from Daryl Hall on 07880 693320.