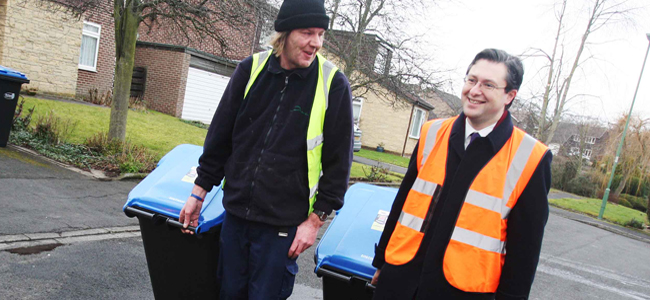 A new recycling and rubbish collection service could lead to savings of more than £9m over the next five years.
The new system, being introduced across County Durham over the coming months, will see rubbish and recycling collected on alternate weeks, with rubbish being collected one week and recycling the other. Similar systems already operate in many other areas of the country.
Householders will also receive a new grey wheeled bin with a blue lid, which they will be able to use for recycling paper and card, plastic, food tins and drink cans, cartons and aerosols. Glass bottles and jars should still be left out for collection in the existing plastic box.
The first of the new bins are already being delivered to homes in the Chester-le-Street area.
The changes, which will also include the introduction of more efficient collection routes, will mean major savings for the authority through a reduction in vehicles, fuel and staffing costs.
It is also expected that the scheme will reduce the amount of waste sent to landfill, which will, in turn, lead to further savings through an increase in income from recycled materials and a reduction in landfill tax.
Cllr Brian Stephens, Durham County Council's Cabinet member for neighbourhoods and local partnerships, said: "About 40 per cent of the rubbish produced by households in County Durham is currently recycled, with the majority of the remaining 60 per cent going to landfill sites.
"As well as being bad for the environment, this is also extremely costly for the council, with the price for sending household waste to landfill now more than £100 per tonne.
"By reducing what we send to landfill, introducing alternative weekly collections and creating more efficient collection routes, we are expecting savings of between £9m and £12m during the first five years alone, depending on how much is recycled."
The new system is already in operation in Derwentside, where a residents' survey at the end of 2006 found that 75 per cent of people felt recycling and rubbish collection services had improved since its introduction.
The scheme is being rolled out across the county in phases, with alternate weekly collections starting in Chester-le-Street in April.
The former Teesdale, Wear Valley and Sedgefield areas will follow, with bins being delivered in March and April and the new system in operation from May.
Householders in the Durham City and East Durham areas will receive their new bins during April and May and will see their collections change in mid-June.
Collection days in Derwentside may also change as a result of routes being reorganised. However, residents will not receive a new bin as they should already have a wheeled recycling bin.
Special arrangements will be made for residents who live in flats or other properties where there are issues with access.
Specific collection days for individual properties will be detailed on stickers placed on the bins alongside the relevant start date. Residents will also receive a collection calendar through their door reminding them which items should be placed in the bin and box.
Although in some areas the new recycling bins will be delivered a few weeks in advance of the changes to collection dates, residents can begin using them straight away, putting them out on their usual collection day.
The changes will also see the introduction of a four-day week, which will minimise the disruption caused by Bank Holidays.
A leaflet explaining the new system has now been delivered to homes across the county within the council's new Guide to Services.
For up-to-date information about the new rubbish and recycling system visit www.durham.gov.uk/bins and enter your postcode in the My Durham section or call 03000 26 1000.
● Pictured: Cllr Simon Henig, Leader of Durham County Council, helps Kevin Dunn deliver new recycling bins in Chester-le-Street.