MPs representing the two train manufacturing factories bidding to win a huge contract have joined forces to urge the chair of an independent review into Britain's High Speed 2 (HS2) to consider the economic boost the deal would give their respective constituencies.
Sedgefield MP Phil Wilson and his Derby South counterpart, the former Foreign Secretary Margaret Beckett, have sent a joint letter to Lord Douglas Oakervee, chair of the HS2 independent review, to "underline their shared belief in the strategic importance of HS2 proceeding".
Hitachi Rail Europe, in Mr Wilson's constituency, and Bombardier, in Mrs Beckett's, submitted a joint bid for the £2.75 billion contract to supply at least 54 high-speed trains for the first phase of HS2.
Hitachi and Bombardier are going up against Siemens, Alstom & Talgo and CAF for the contract, which was due to be awarded in early 2020 – before Boris Johnson ordered a review in August.
Two leading business bodies have since urged the government to back HS2 to unlock the 'transformational' economic benefits to the North.
In two separate reports released this week, the Northern Powerhouse Partnership and the CBI have said failure to deliver HS2 will be damaging to the North and the rest of the UK.
Asking to meet Lord Oakervee in person, Mr Wilson and Mrs Beckett say they welcome an independent review into HS2, as it's "essential for the public to have confidence in the project and its delivery, and for its economic and social benefits to be more widely understood".
But they have reminded him of the obvious economic boost the joint venture bid would bring for two UK areas.
In their letter, seen by Aycliffe Today, the MPs write: "The Hitachi and Bombardier joint venture bid is the only one that provides maximum benefit for the economy by using established factories in the UK, relying on established UK supply chains.
"Bombardier and Hitachi have a combined UK rail workforce of almost 8,000, in addition to the many thousands employed in their supply chains.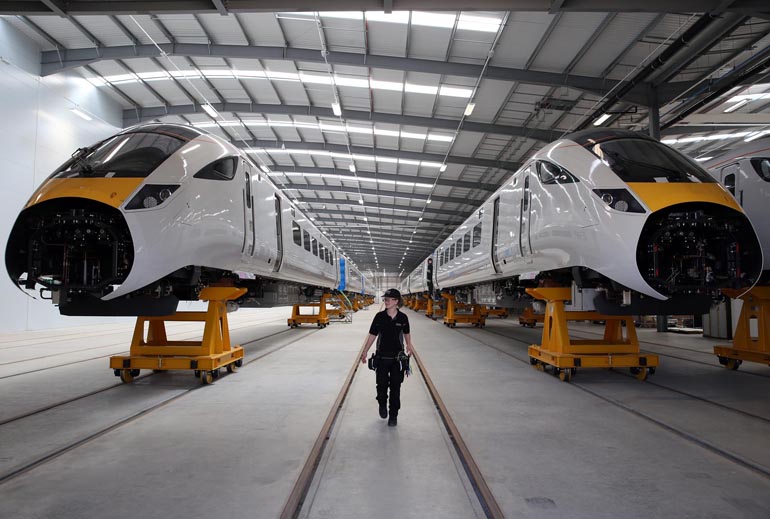 "The rolling stock contract will create and sustain many skilled design, manufacturing and maintenance jobs across the country.
"HS2 represents a chance to create in the UK a sustainable exportable legacy in high speed rail including design and engineering, manufacturing, skills and the UK supply chain.
"Uncertainty has a particular impact on the small and medium sized enterprises in the rail supply chain, many of which are located in our constituencies.
"We would like to understand what consideration is being made about the long-term economic value HS2 can play with regards to British manufacturing and the rail supply chain."
It was reported last month that Hitachi is set to miss out on the £500m Tyne and Wear Metro deal – to a Spanish rival – just months after the Aycliffe manufacturer missed out on a £1.5 billion contract to build 94 new Deep Tube trains to serve the London Underground's Piccadilly line.
That deal was awarded by Transport for London (TfL) to Siemens Mobility, and it was later revealed two thirds of the work would be done in Austria.
But earlier this year, Abellio UK awarded Hitachi a £400m contract to build a pioneering new fleet of intercity trains for East Midlands Railway (EMR).
The HS2 deal, even shared with Bombardier, would future-proof Hitachi for several years, along with its 750 direct jobs and support thousands more in the North-East supply chain.