By Donna Campbell
It was a weekend full of racing which as always starts with Parkruns on a Saturday morning.
The majority attended Hackworth Parkrun in Shildon which was celebrating its 6th birthday.
I'm sure the promise of cake at the end had nothing to do with our members attending.
Two members also achieved PB's at this Parkrun. Lindsey Brown in 30.32 and Cliff Pickering in 34.41.
Several members then took the trip to Dent in Cumbria for their popular Dentdale Races.
They have two races that take place 7.9 and 14.2. The weather had changed over the preceding days and this had resulted in some flooding in the area which meant that the course had to be slightly changed.
This didn't hinder our runners however, who all seemed to have good runs on the hilly course. In the 7.9 mile race, Martyn Knox was first home for the club in 1.01.55 followed by Trish Kay in 1.03.33 and Susan Clark in 1.22.10.
In the 4.2 mile race, Mark Wade was first home (13th overall) in 1.34.07 followed by Richard Campbell in 1.38.31, Andy Talbot in 1.43.32, John Richardson 2.12.19 and Richard Tonge 2.36.38.
On Sunday one of our members took part in the Brett Lydd 20 mile race in Kent.
Simon completed this in 3.09.07 commenting that he had battled through wind, rain and broken down trees which made it seem more of an obstacle course than a road race.
Also on Sunday it was the last fixture in the NYSD Cross Country season albeit on the paths of South Park. This event was the relays which see teams of 3x women and 4 x men each complete 2 miles (two laps of the parkrun course).
In the women's race, the first team home were Tracey Surtees, Michelle Jane and Angela Sutheran in an overall time of 42.18. This secured them 3rd place overall. Next home were Heather Fenwick, Lindsey Brown and Gemma Holland in 52.29, then Mandy Heywood, Melanie Rowland and Susan Clark came in in 55.29 followed by Jane Burnside, Denise Evans and Sam Baronowski in 59.12.
In the men's race, the first team home was John Surtees, Dez Fielden, Floyd Jones and Mar Wade in 47.05 overall. They were followed by Richard Holland, Stuart Joyce, Andy Talbot and Richard Campbell in 52.14, next was Dave Blewitt, Lee Wren, Mark Bainbridge and Rob Jayne in 55.49 followed by John Burnside, Rob Nicholson, John Richardson and Peter Smith in 1.02.
After the races the presentation took place for the medals and trophies for the Cross Country Season.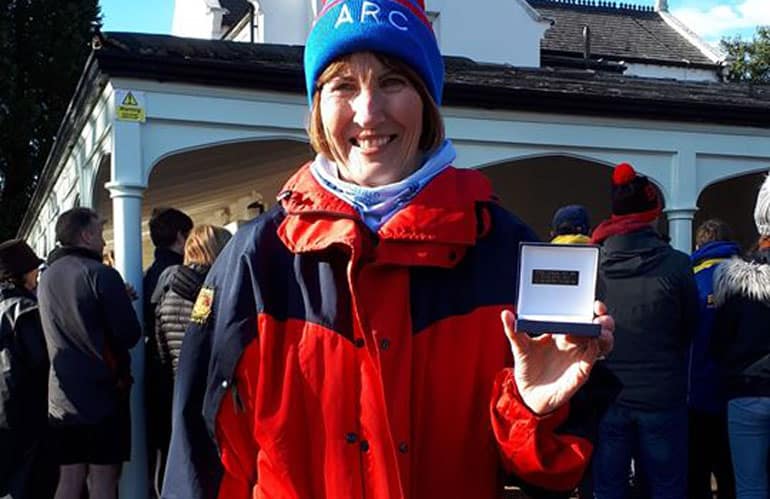 We had two members received medals in what has been an excellent season for us in the cross country with many members taking part for the first time.
Sue Milburn received Gold Medal for the Ladies O/60 category (above) and Ray Todd received Silver for the Men O/80 category (below).
For anyone interested in joining the club, you can simply turn up at one of our sessions all of which start from the Oakleaf Complex in Newton Aycliffe. Monday night is beginners run at 6.30pm, Tuesday is endurance/speed session from 7pm, and Thursday is a track session and this takes place at Shildon Track. Further details can be found on our website or facebook pages or alternatively you can message the club via facebook for more information.