Jewellery made from Durham Cathedral stone, a kinetic phone charger, an armrest for breastfeeding mothers and a mobile science table for schools in less developed countries were just some of the innovative products young people taking part in a flagship entrepreneur competition came up with.
Winners of this year's Future Business Magnates (FBM) competition, run by Business Durham, the economic development arm of Durham County Council, were announced at an evening reception at Newton Aycliffe's Xcel Centre.
More than 15 school teams from across County Durham had entered the competition, with this year's challenge – Made in County Durham, Sold to the World – focusing on exporting.
The overall winners were St Leonard's Catholic School in Durham for their business idea to make jewellery from Durham Cathedral stone.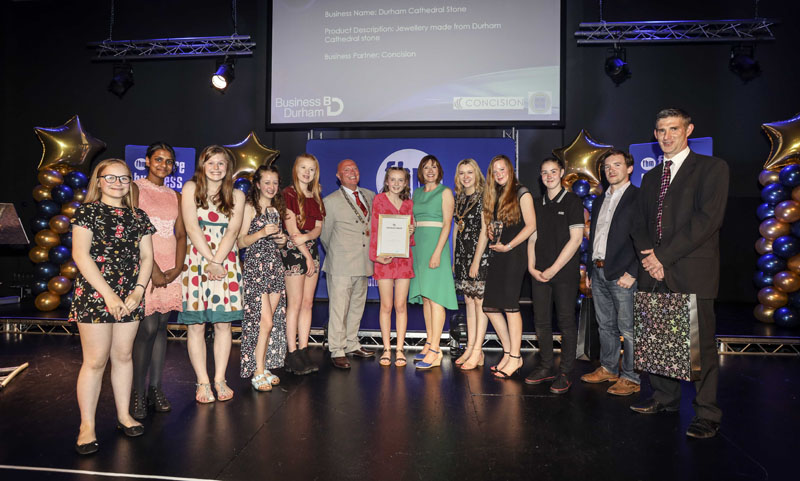 Judges felt that the product had a great fit with the competition theme and were impressed by the team's excellent presentation of their business idea.
Second place went to Park View School, Chester le Street, for their bracelet and necklace designed to help address social isolation and third place was awarded to Durham High School Girls for their History in the Making gift kits themed around Durham's history.
Influential names from the business world, including Bignall Group, Ebac, Hydram, Waterstons, CA Group, Robertson Construction, Roman, Franks the Flooring Store and Zumtobel Group had partnered the teams to provide mentoring and support.
Jake Newport from Finnmark Sauna spoke to the pupils at the awards dinner about his enterprise journey.
Jake is a former Durham University student who took part in the University's Blueprint competition before setting up his luxury sauna business in County Durham.
Chris Hind, head of business studies at St Leonard's Catholic School. said: "It's a great competition, I love it.
"We see the confidence of the pupils develop over the course of the programme. They gain many skills including communications, team work and presentation skills as well as all round business knowledge.
"Importantly they also enjoy the programme and it keeps them interested over the year."
Sarah Slaven, operations director for Business Durham, said: "It's so fantastic to see year after year our young people coming up with really innovative ideas and taking them all the way through to a developed business plan.
"The teams have really had to broaden their horizons this year and look to County Durham for their inspiration and products, and then the world for their markets. We're grateful to all the businesses which get involved to help the teams on their journeys."
Cllr Katie Corrigan, chairman of Durham County Council, said: "Each year the talent and creativity of the young people in County Durham shown during the Future Business Magnates scheme is incredibly impressive. It was an honour to attend the awards ceremony and see the innovative ideas first-hand. Well done to all the schools involved."
The full list of prize winners were:
• Most effective team: Parkside Academy in Crook with their Bee-lieve honey and flower seeds aimed at bee conservation, partnered by Zumtobel Group
• Best prototype design: Wellfield Community School in Wingate with their multi-purpose, portable science table, partnered by Hydram
• Most effective use of networks: Durham Johnston School for their Urban Lyrical, Clothing personalised with song lyrics, partnered by UMi Limited
• Best financial plan: King James I Academy in Bishop Auckland and their Mamma and Me…Comforting Arms, Portable breastfeeding arm rest partnered by EBAC Limited
• Best brand name and logo: Framwellgate School in Durham for Easi Ed, a laser ruler writing guide, partnered by Honcho Markets Limited
• Most effective use of technology: Greenfield Community College in Newton Aycliffe with their kinetic phone charger case, partnered by Franks the Flooring Store
• Best environmental business: Barnard Castle School for their Eco-friendly shower head with interchangeable scent discs, partnered by Roman Limited
• Best presentation: St Leonard's Catholic School in Durham with their Jewellery made from Durham Cathedral stone, partnered by Concision
• FBM reporters award: Greenfield Community College in Newton Aycliffe with their kinetic phone charger case, partnered by Franks the Flooring Store