One of Teesside's leading law firms is targeting further growth after opening an office on County Durham's biggest business park.
Stockton-based Endeavour Partnership has expanded to Aycliffe Business Park and wants to bridge what it says is an obvious gap between Leeds and Newcastle for "city-level" legal services.
The firm was launched in 1999 by four partners who saw the need for a law firm to provide purely commercial legal services.
It has built up a strong reputation over the past 20 years for providing high-quality advice on a range of business law matters including mergers and acquisitions, intellectual property, employment and pensions, business immigration, commercial property and corporate recovery from its headquarters at Teesdale.
Endeavour Partnership was again recognised as one of the North East's top corporate and commercial practices in the prestigious Legal 500 and Chambers guides with every department highly ranked this year.
To build on its impressive growth over the last two years, Endeavour Partnership has now identified Aycliffe Business Park as a key growth area.
Co-founder and managing partner Paul Bury – pictured above with operations director Sharon Hutchinson (left) and Xcel Centre director Kerina Clark at Endeavour's new office on Aycliffe Business Park – said: "We already work with a number of key clients in Newton Aycliffe, and we want to expand on that.
"We're also very committed to the business park and its community. We're keen to get involved in local initiatives and we've already agreed to sponsor the business park's Make Your Mark awards for a third year running.
"We know there's very much a community feel to Aycliffe, but we also know there are a lot of firms who don't know about the level of services we provide.
"You don't need to go to Leeds or Newcastle to access so-called city-level legal services. We have a team of highly-experienced corporate lawyers who can cover every aspect of business law."
Endeavour's Aycliffe office, within the Xcel Centre at the heart of Aycliffe Business Park, is being headed up by lifelong Aycliffe resident Sharon Hutchinson, who knows the area well and is also managing director and chair of the Darlington Business Club.
"I've lived in Newton Aycliffe all my life, so to see this excitement and optimism around the business park is fantastic," added Sharon.
"There's so much good stuff going on in the area and we feel we have a contribution to make to that.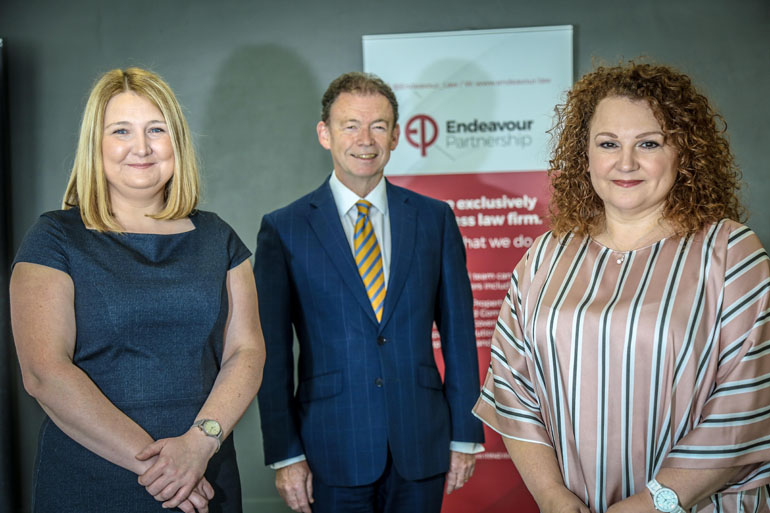 "Having spent time with local businesses, it has become obvious that we have a lot to offer them. They know they need more than a general practice but they think that type of legal service is only available in the city.
"What we're now saying to businesses in Aycliffe and surrounding areas is that the support they need is closer than they think."
Endeavour has taken up an office within the Xcel Centre, and managing director Kerina Clark – who's also chair of Aycliffe Business Park Community – said: "We're delighted to welcome Endeavour Partnership to Aycliffe.
"The firm has been a big supporter of the Make Your Mark awards for three years now and we know it wants to play a big part in our community.
"But it's also another quality addition to the growing top-level professional services we already have here and something which I'm sure will complement our existing tenants."
Endeavour Partnership is the go-to legal practice for a range of issues in sectors ranging from construction, healthcare, hospitality and leisure to agriculture, education, retail, IT and start-ups.
Endeavour Partnership already currently works with several businesses based in Aycliffe, including Collins Seafood, Growth Capital Ventures (GCV) and Commercial Expert.
GCV co-founder Craig Peterson "The corporate and commercial teams at Endeavour have provided us with solid legal advice and an excellent service.
"It is incredibly reassuring to have such an approachable and proactive team so close by and available to provide advice on a wide range of legal services.
"The support we have received over recent years has been first class and we are delighted to have Endeavour as an important part of our team."
• Find out more about Endeavour and its legal services at endeavour.law
• Pictured above: Endeavour Partnership operations director Sharon Hutchinson (left) with the firm's co-founder and managing partner Paul Bury and Xcel Centre director Kerina Clark at Endeavour's new office on Aycliffe Business Park.