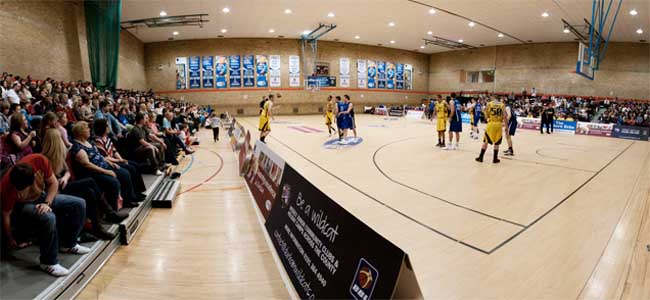 By Ryan Gillham
Charles Smith shot the lights out, scoring 49 points at the Newton Aycliffe Leisure centre as his Newcastle Eagles side triumphed over 109-65 over the Durham Wildcats.
The Wildcats kept in the game for majority of the opening quarter with Brad Guinane nailing three three-pointers early on but the Eagles had an answer in Charles Smith cancelling out Durham's impressive start. The start was shot lived for the Wildcats as the Eagles soon fired up as Joe Chapman and Darius Defoe found their touch creating a 27 point lead at the end of the first with the scoreline showing 13-40 on the buzzer.
Despite Newcastle showing their championship winning credentials, Durham started to fight back making two short stint runs bringing the game back to within 16 points with Baldarelli and Keister scoring majority of the points from the free throw line ending the half 38-54.
Charles Smith continued his scoring form whilst at the opposite end of the court the Wildcats struggled to claim a basket as the Eagles extended their lead to 33 points with a lethal shooting display and withchapman getting in on the act with the third quarter ending with the Eagles in full control at 55-88.
Newcastle didn't hold up against their local rivals as Chapman and Smith hit consecutive three's to with some dynamite shooting from downtown despite the Wildcats fighting hard to narrow the score, the Eagles shut out Durham to win the game by 41 points with the score showing on the final buzzer, 65-106.
Head Coach Dave Elderkin found Charles Smith's display outstanding but his players found it hard going after a packed schedule.
"First of all I would like to congratulate Charles Smith on an incredible shooting display," he said. "Our players weren't fresh going into the game after having six games in 10 days and the Eagles certain took advantage of that. The Eagles would have been 'syked-up' after we defeated Plymouth previously and they were fantastic tonight."
M.V.P – Charles Smith; 49 points, 16 rebounds. With his incredible three point shooting display, Smith carried his team to victory with an impressive double-double.
Durham Wildcats – Keith Page; 12 points, 1 rebound, Andrew Keister; 11 points, 18 rebounds, Brad Guinane; 11 points, 6 rebounds.
Newcastle Eagles – Charles Smith; 49 points, 16 rebounds, Darius Defoe; 21 points, 9 rebounds, Joe Chapman; 18 points, 11 assists.