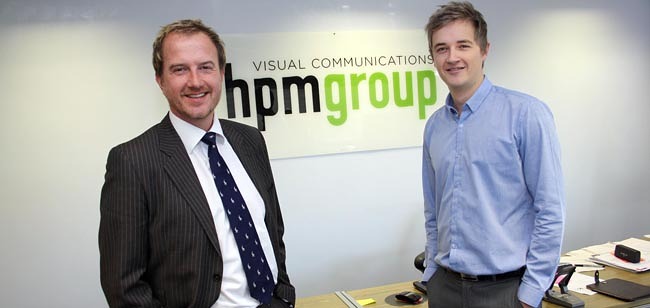 One of the region's biggest media companies based in Newton Aycliffe has made two new appointments to continue its investment in visual communications.
HPM Group, based at Aycliffe Business Park, has evolved significantly in recent years to become one of the region's highly-rated multi-service marketing agencies.
The company, which employs 45 staff and currently has an annual turnover of £4.5m, has invested heavily to focus on new media marketing strategies and innovative i-publications as well as PR.
Ken Pearce, 45, from Durham, has joined HPM as business development manager after several years working in the print industry for other major organisations and multinational paper merchants.
Meanwhile, Ryan Bennison, 26, has been promoted from marketing trainee to business development executive, specialising in selling creative design and new media.
Ken said: "It's my job to generate new, long-term, profitable business and to create new relationships, reactivating lapsed accounts and generally improving the sales process.
"I'm looking forward to working with a top team at HPM and fostering and developing good business relationships throughout the North-East."
Ryan, from Newcastle, joined HPM in summer 2009 after graduating from Northumbria University with a first class honours degree in marketing management and has recently worked on prestigious projects such as Wynyard Hall, Auckland Castle and NetPark-based Reinnervate.
He said: "This is my first role from University and it's been a joy to work for HPM in developing my career in marketing.
"The business development team is supported by one of the region's most talented and creative design teams as well as having some of the latest digital and printing technology, which is the perfect mix."
HPM managing director Richard Mortimer, who helped with the recent launch of the Aycliffe Business Park website, is delighted with both appointments.
He said: "Ken is experienced in the North-East graphic industry and has led teams of salespeople.
"He's excellent at working with companies to build brands and is highly-experienced at mentoring the growth of small and medium-sized companies through marketing techniques.
"Ryan joined us on a graduate trainee development scheme. His progress and contribution to the group has been excellent and we're delighted to see him climb the ladder, which is just rewards for all his efforts.
"He's now well-versed in developing web marketing strategies, from simple but effective websites to sophisticated SEO and SEM campaigns."
HPM boasts firms such as PWS, Wynyard Hall, Durham University, Teesside University and NHS Trusts among its impressive client list, as well as several football clubs including Liverpool, Sunderland and Middlesbrough.
The 100-year-old firm was the first company to reside on Park 2000 at Heighington Lane Business Park in Aycliffe when they relocated there from Bishop Auckland in 2000, and their impressive building was opened by then Prime Minister Tony Blair.
More details about HPM can be found at www.hpm.uk.com