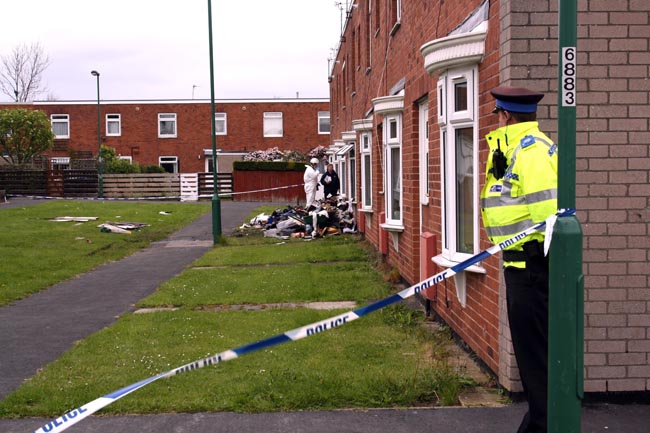 A coroner has warned of the dangers of hoarding and criticised TV programmes for trivialising the issue after a Newton Aycliffe pensioner died in a fire in a house packed with clutter.
Firefighters took half an hour to come to the aid of Ann Bradshaw at her home in Honister Place a year ago.
The rescue effort was hampered by hoarded items which had been piled up to the ceiling in some rooms.
HOARDED ITEMS DELAYED FIRE RESCUE
County Durham and Darlington Coroner Andrew Tweddle said there could have been further fatalities as a result of the accumulated items and praised the bravery of firefighters.
"The conditions were quite extreme on a number of levels," he said. "The physical state of the property with the amount of stuff is quite staggering and made the job of the firefighters quite difficult and dangerous. It would have been so easy to have two dead firefighters on the day."
Conditions at Mrs Bradshaw's house were so extreme that her 37-year-old son, who was rescued from an upstairs window in the blaze, would take two hours moving items every time he wanted to leave the building whilst the staircase was like a tunnel encased in belongings.
Firefighters described trying to climb over unstable piles to reach the suffocating woman and made repeated attempts to get to her. The fire generated huge amounts of smoke and was described as one of the hottest crews had ever faced. Mrs Bradshaw died at the scene from smoke inhalation.
The blaze was caused by an electrical fault resulting from a frayed electrical extension cable that ran underneath some of Mrs Bradshaw's belongings.
The latest edition of the Diagnostic and Statistical Manual of Mental Disorders – the world bible of psychiatric illnesses – this month re-categorised hoarding as an illness in its own right. The move has raised hopes that the condition could receive more research funding and offer hope to sufferers who are often virtually untreatable.
Previously hoarding was regarded as a symptom of obsessive compulsive disorder. The condition has been the subject of numerous television programmes including Britain's Biggest Hoarder, currently being shown on BBC One.
Mr Tweddle, who returned a verdict of accidental death, said he would write to landlords to alert them to the dangers of hoarding. "Hoarding has even reached the TV and it is almost made light of and obviously makes good TV," he said. "However, this shows that people are at grave risk to themselves, potentially their neighbours, but equally to those who try to save lives."
This month a couple pleaded guilty to four charges of child cruelty by providing inappropriate living conditions for four children whose home was full of piles of clutter. Also this month firefighters took seven hours to rescue a vulnerable mother and her son from a tiny flat in Romford, Essex, which was stuffed with hoarded items.
WOMAN DIES IN AYCLIFFE HOUSE FIRE
SAFETY PLEAS 'IGNORED' SAYS HONISTER RESIDENT