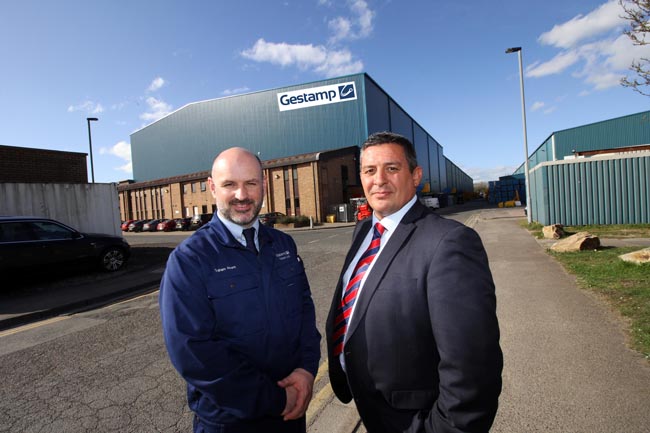 By Martin Walker
Newton Aycliffe's biggest employers has expanded again with the development of a new £11m press plant.
Car parts maker Gestamp Tallent, which employs more than 1,300 people on Aycliffe Business Park, has updated the oldest part of its huge site in Aycliffe.
The 17-metre tall extension is 75 metres in length and provides an extra 3,900 square metres of floor space, creating a 250m-long press shop with a volumetric size of 1.8 million cubic metres.
It is also home to two new state-of-the-art presses – costing £6.2m between them – which will improve efficiency and output.
Production within the new part of Plant 1 has already started, and while it signals the end of a two-year design project, it is only the beginning of another exciting chapter for Gestamp Tallent – ensuring the production of car parts in Aycliffe for more than 30 years.
It further cements Gestamp Tallent's position in Aycliffe as the town's biggest employer, as it continues to develop and invest in the future.
Plant Director Peter Gallone said: "This further demonstrates how important our people are to us, and we are to them.
"This is a 30-plus-year investment. We have presses that have been on site since 1982, so that gives you an idea of how long we want these facilities to carry on producing parts here in Newton Aycliffe.
"When people drive past and they see a 17-metre tall building coming out of the ground, they can see there's investment here and it's great for the town and the area.
"We employ more than 1,300 people directly – and hundreds more indirectly through our supply chain – which means we're contributing significantly to the local economy, which we feel is important.
"We also think it's important that we communicate with both our employees but also the local community.
"It's part of my plan to open up to the local businesses and the local community, to help them understand what we do, in the hope that we continue to attract local people as employees."
Gestamp Tallent's latest investment was headed up by local lad Graham Moore, who left Greenfield School in 1991 and joined the then Tallent Engineering as an Apprentice Maintenance Technician.
Graham and his team oversaw the design and build of two presses which were assembled in the Basque region of Spain, Gestamp's homeland.
Once approved they were then stripped down and shipped to Newton Aycliffe over land and sea. With the construction of the Plant 1 extension ongoing – and with the clock ticking – the press components arrived on Aycliffe Business Park in early January. One vessel was chartered to bring the main heavy parts by sea, while 15 curtain-sider wagons brought the rest by road.
The parts arrived, and two presses – a 4,000-tonne transfer press costing £4.2m and a 1,500-tonne progression press costing £2m – are now in place, sitting in seven-metre deep pits and surrounded by sound-proof "cabinets" to minimise noise.
The transfer press will produce 6.3 million strokes a year, while the progression press will do 12.7m annually – combined they will help Gestamp Tallent meet the needs of customers such as Jaguar, Landrover, Volvo, Ford, BMW, Nissan and Honda.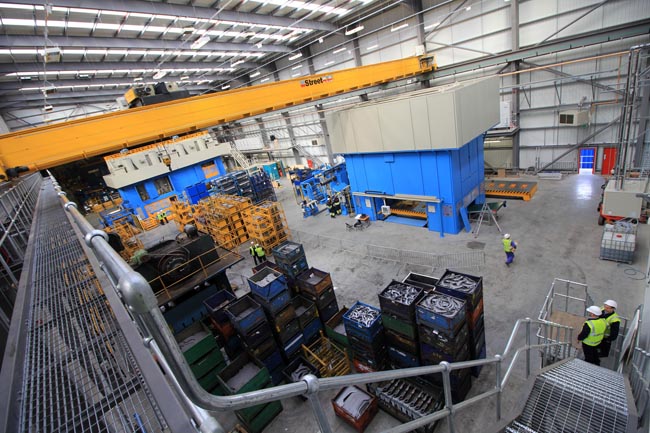 Graham, 40, said: "The press shop was one of the last remaining old low level buildings within the plant and the first part of what used to be known as Tallent Engineering.
"It's been a real challenge, but the progression press is ready for production and we expect the transfer press start production in May some time.
"Ultimately they will relieve the additional workload and capacity that we couldn't previously manage within the plant.
"Now we have to make sure they work and give Gestamp the return on investment we committed to, that means we need to get the plant up to the required levels of efficiency for large volume production.
"It's a big responsibility, but major investments like this don't come along that often, so it was a golden opportunity for our team to manage it and relish that responsibility."
Gestamp Tallent has grown hugely in the last three years, increasing turnover, output and staff numbers to record levels.
Turnover has grown substantially in that time, and expects it to increase by 16% this year with a further 12% increase by 2017.
The firm has taken on 150 new people in the last eight months, increasing its workforce to 1,322, while long service statistics continue to impress, with 42 employees completing 25 years' service this year alone.
Gestamp Tallent also develops local engineers and tool makers, with 52 Apprentices currently with the company and plans to take in 10 a year up to 2018.
The £1.3m investment in the Gestamp Tallent Training Academy has also transformed the former Sanyo site into a state-of-the-art training facility which will not only train Gestamp's workforce of the future, but will also help them to develop their existing staff.
The Gestamp group has almost 100 plants worldwide covering Europe, North America, India, China and Turkey, with five of those in the UK including Cannock in the Midlands, Fareham on the South coast, Llanelli in Wales and Washington, as well as its biggest UK site, Gestamp Tallent, in Aycliffe.
Gestamp Tallent works with many of the leading Western European vehicle manufacturers with over 60% of components manufactured in Aycliffe exported.