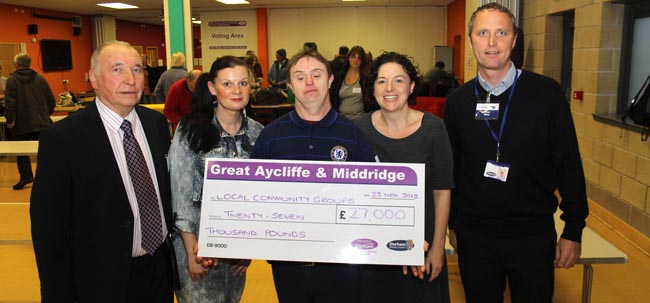 By Martin Walker
Bosses of Durham Council's grant-giving arm say they will always be there for community groups in Newton Aycliffe.
Great Aycliffe and Middridge Partnership (GAMP) dished out £27,000-worth of grants to local groups this week.
With Durham County Council having to save a staggering £200m over a six-year period up to 2017, GAMP say funding to grass roots people is even more important.
In a Video Interview, GAMP Co-ordinator Brian Riley told Aycliffe Today: "It's really important that we support the local community and voluntary sector now more than ever.
"With all the cutbacks, this has been an opportunity for them to get funding as well as vote for the community and voluntary areas to be GAMP's second main priority.
"We'll continue to work with local groups throughout the year. GAMP will always be here for them and we look forward to working closely with local groups in the coming years."
More than 900 people attended the Your Money, Your Area, Your Views Forum Event to vote for the community projects they believed most deserved a share of a £27,000 funding pot.
This year, 31 groups applied for grants of up to £2,500 for various community projects.
Representatives from each organisation exhibited at the forum to give residents and those who work, study or volunteer in the area an insight into what they do before casting their three votes.
In the end, 12 projects proved successful, including Hordale Residents Association, which applied for £2,500 to build a Multi Use Games Area. The total cost of the project is £40,000 with the £2,500 secured at the event, means that the project can now come to fruition
Brian added: "It's been a perfect day for the groups of Aycliffe to showcase what activities they have and what they do."
Click here to see our Video Feature
DELIGHT AS £27K GAMP CASH IS DISHED OUT