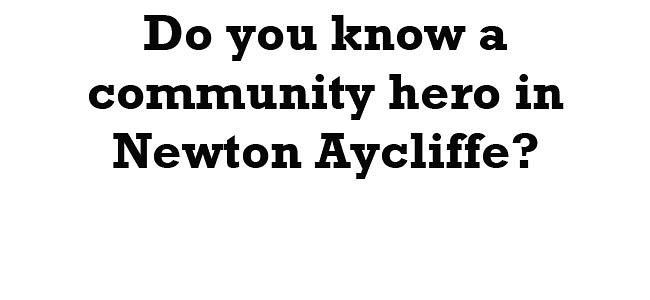 Great Aycliffe and Middridge Partnership (GAMP) are looking for individuals or organisations that have done something great for their community.
The Chairman's Medal is presented to individuals and groups to recognise significant achievement and outstanding effort in all walks of life.
It's the highest honour Durham County Council can bestow and Area Action Partnerships (AAPs) are looking for nominations from across the county in the run-up to a major presentation event next year.
The medal has been County Durham's top civic award since it was introduced in 2007 and Durham County Council Chairman, Cllr John Robinson will be holding a ceremony on 13th March to award chosen 'individuals for voluntary effort or 'outstanding charitable organisations'.
There will be 14 winners, representing each AAP area across the county.
The Chairman is working with the AAPs to find people and organisations that have gone above and beyond to make a difference.
The deadline for nominations is Friday 16th January. Forward completed forms to the Chairman's Office, Durham County Council, County Hall, Durham DH1 5UF.
Anyone can nominate an organisation or individual for a medal.
For more information go to www.durham.gov.uk/ChairmansMedal, r email: [email protected] or call 03000 268 828