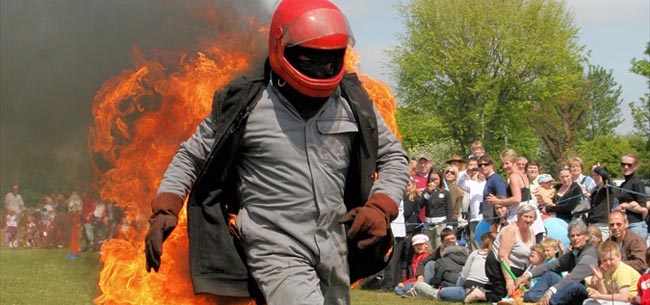 A bank holiday weekend of free activities and entertainment for the whole family is planned for this year's Great Aycliffe Show.
This year's event, organised by Great Aycliffe Town Council, will be held on the showfield at the Oakleaf Sports Complex on Saturday and Sunday August 24 and 25.
The popular show will feature an exciting programme of live arena entertainment, headlined by the UK's number one motorcycle display team, Bolddog Lings.
Their performance incorporates extreme sports action based on competitive racing, freestyle motocross and daring aerial tricks, guaranteed to amaze spectators.
Between action displays, the public will have the opportunity to get a closer look at the bikes and meet the riders.
The arena will also host Ridgeside Falconry and Ridgeside Lurchers in demonstrations of flying and racing, with the highlight being a race between the lurchers and a hawk – a unique spectacle.
The Drakes of Hazard are guaranteed to make spectators laugh with their skilful and hilarious display of Indian Runner Ducks tackling a series of obstacles – including the 'Bridge over the River Quack' – with the assistance of young volunteers from the audience.
The Playhouse Marquee will showcase local and national artists in live stage performances.
On Saturday, KDanz will present extracts from their Wonderland 2013 show, while Aycliffe Dance Academy will be performing a selection from their summer show and local singer Rebecca Harcus will be singing a selection of popular songs.
On Sunday, 4th Dimension will give a high-energy performance of hits, old and new, while international stand-up comic, Martyn James, will bring laughter to the Playhouse Marquee.
Local singer Ruby Arnold and band Lost in the Crowd will round off the entertainment package.
For the younger audience, ever-popular Professor Nincompoop will be giving his magic shows and balloon modelling.
All the regular features of the Show will be available – handcraft and horticulture competitions, football competitions, pigeon, rabbit and poultry shows, vintage vehicles, environment and craft marquees, funfair, Punch and Judy, face painting, static displays, refreshments – and hopefully an abundance of sunshine!
The whole community is involved, with local sponsors Newton Press, Cooperative Funeralcare, Bewick and Neville Pharmacy, Gregg Little Testing Centre, SS Seeds and Deco Trophies and Engraving making an invaluable contribution.
Entrance to the Show is free, with ample car parking available at just £1 per vehicle.
For further information, contact Great Aycliffe Town Council – tel 01325 300700 or see www.great-aycliffe.gov.uk