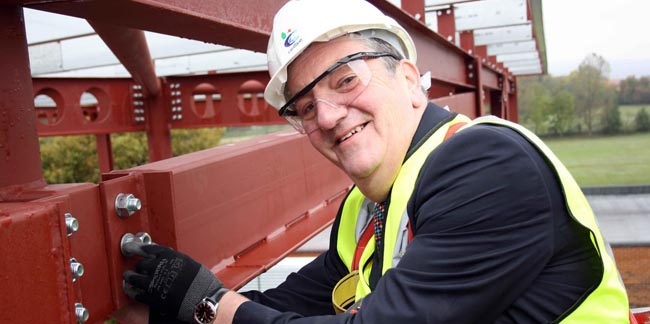 By Martin Walker
Two County Durham schools are now enjoying new facilities after construction projects partly built by Newton Aycliffe firm Finley Structures were completed.
The latest stage of work at Wellfield School, in Wingate, and Whitworth Park School, Spennymoor, was finished on schedule in time for the start of the new school year.
Both works were funded through the Building Schools for the Future (BSF) programme and were overseen by construction firm Carillion, with family firm Finley Structures erecting the steel framework for both buildings.
At Wellfield School there is a new extension and new frontage to the school and the existing accommodation has been substantially remodelled.
And the work at Whitworth Park School, which includes an extension and refurbishment to existing buildings, marks the completion of the merger of the former Spennymoor and Tudhoe Grange schools.
The plan will see part of the existing 1950s-built school demolished and a three-storey sixth form block and reception area built, with the combined number of pupils rising to 1,246.
Paul Gillis, head of Whitworth, was taken up a height in a cherry-picker by Finley Structures before screwing the last bolt into the £11m extension.
Mr Gillis said: "The extension means an enormous amount to the school and the community of Spennymoor.
"It'll bring facilities that will be second-to-none which will enable us to raise aspirations and ambitions throughout the school."
As part of the construction process and Finley Structures' partnership with Carillion, the firms showed school pupils from both schools around the factory as the steel was being fabricated before signing a plate of steel which was welded into the new structure.
Finley's director Gary Finley, whose daughter attends Whitworth School, said: "This development meant a little bit more than most of our contracts, but it's always a pleasure to work with schools and to show children around so they can see how we go about building their new facility.
"It's always nice to involve the young people wherever we can and it's rewarding to see them come in and learn about our operations."
Cllr Ossie Johnson, Cabinet member for children and young people's services at Durham County Council, added: "I am delighted that these major building projects have been completed in time for the new school year.
"I am sure the new facilities at these schools will prove to be of enormous benefit to pupils now and for many years to come."
Further refurbishment will be carried out at both schools, with the projects due to be finalised during 2014.