Newton Aycliffe construction firm Finley Structures has won a contract to fabricate and erect 560 tonnes of steel for a school on the Isle of Wight.
It's one of three school contracts the family-run company has won recently and is currently on site at all three.
Sir Robert McAlpine is working on the £25m new development at Ryde Academy, located near the Northern coast of the island on an existing school site.
Planners gave the green light for the new school building and sports pitches to be constructed to the South of its existing site.
The construction includes a new two and three-storey school building, with a flexible school layout for the consolidated 1,500 place 11-16 year old secondary school.
Existing six blocks will be demolished after the new complex is commissioned and the majority of that part of the site turned into a car park.
McAlpine awarded Finley Structures the contract to fabricate and erect 560 tonnes of steel as part of the project.
Finley operations manager Jim Graham said: "It always makes things a bit more logistically difficult when there's water involved.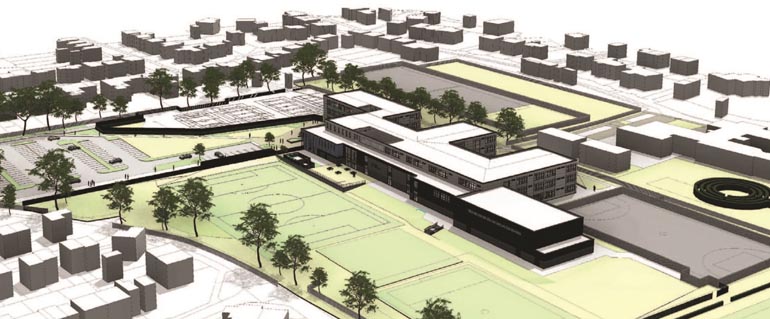 "We fabricated the steel in Newton Aycliffe and transported to the South coast, and Red Funnel ferries took it across to the island.
"The school is also being built on an existing site, which has made the project a bit more difficult logistically, but we're progressing well."
Finley Structures was also given a 500-tonne project to build a new school for Abbotsfield School, in West London, for main contractor Bowmer & Kirkland, as well as a 260-tonne contract for Interserve Construction at Roundhay School in Leeds.
It comes just a few months after the Aycliffe firm was awarded a contract to work on a second building at the Universty of Lincoln for BAM Construction.
Graham added: "A lot of what we're looking at the moment is education-based. It's a trend that everyone seems to be focusing on at the moment.
"Everyone was building hospitals, then it was supermarkets, but now the focus seems to be on education – new schools and improving schools.
"But it's another glowing testament that we've reacted to the market and continued to pick up major contracts up and down the country."
Graham admits Brexit has had an impact within the construction industry, but insisted: "We're more than coping with the current climate.
"An election year followed by a Brexit year has made things very unstable. There's a lot of indecision and you tend to find it's famine followed by feast.
"We knew it was going to be a peak-and-trough year but we've done very well this year, and we're now expecting to hear some very positive news soon on our order book going forward."