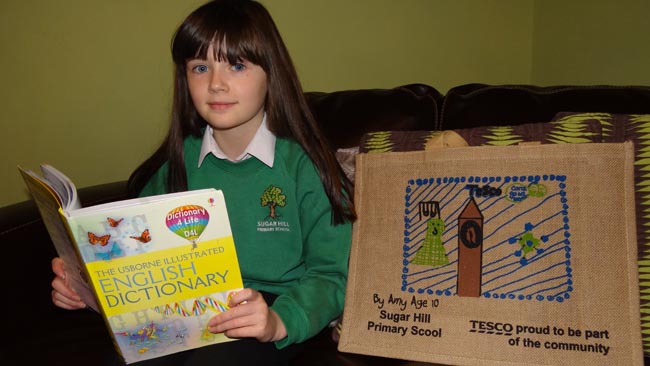 By Martin Walker
A 10-year-old Newton Aycliffe girl spotted a spelling mistake missed by blundering Tesco staff.
Tesco Extra, in Newton Aycliffe, organised a competition for school pupils to design posters celebrating what they love most about their home town.
But an embarrassing spelling mistake on the bag was missed, until spotted by eagle-eyed Sugar Hill pupil Megan Holland (pictured).
The winning design, by Amy Corking, also of Sugar Hill, was printed onto hessian bags that were distributed in store last week.
But Tesco, which turns over £50m a year in Aycliffe, had left the letter 'h' out of the word school, which was printed underneath the design.
Now Megan's dad Richard says it's Tesco who need the English lessons.
"Megan's grandma had gone to Tesco to pick up one of the bags and Megan noticed the mistake," Mr Holland told The Northern Echo.
"She was really surprised. 'How can Tesco have spelt school wrong?' she asked. I think Tesco needs to go back to school."
A spokesperson from Tesco said the spelling mistake was a genuine error and apologised.
"Unfortunately, the bags had already been printed when the mistake was discovered," she told the Echo.
"We are replacing all the bags sent to Sugar Hill Primary School and new bags will be available in store from Friday.
"We think the bags look fantastic with Amy's design and believe that the message the design conveys, 'why I love Newton Aycliffe', comes across really well!"
As well as seeing her design printed, Amy won a £250 prize for her school and a £50 gift card to spend in store.
Linda Cumming, headteacher at Sugar Hill Primary School, said the money would be used to buy arts and craft materials.
"We are delighted to have such a talented pupil at the school," she added.