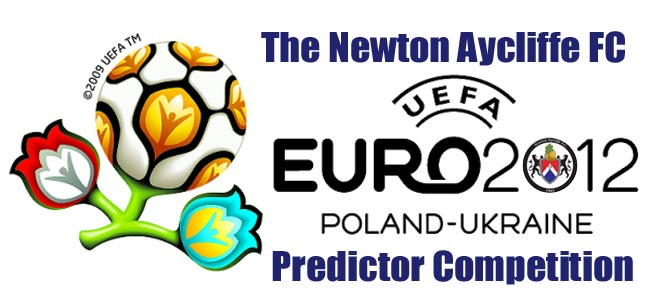 By Glen Robertson
It's time to replace your bunting, cakes and cups of tea with the flag of St. George, crisps and alcohol.
Yet another summer of football awaits the nation as England travel to the European Championships in Poland and Ukraine.
The World Cup is the most famous football competition on the planet, but the Euros offer the same spark of patriotic pride and, some would argue, much better football.
The 2010 tournament in South Africa was pretty dire, and that's before you start to dissect England's performances. But the Euros never disappoint.
From 'Football's Coming Home' in 1996, to the dazzling Euro 2000 and through to the shock Greek victory at Euro 2004, the Euros have delivered their share of excitement, drama and heartache.
Even Euro 2008 was a superb watch, as Spain's terrific tika-taka masked England's absence from the competition.
We're sure the football anoraks in Newton Aycliffe already know everything there is to know about this summers tournament, but for those who have entered sweepstakes, fancy a flutter or just want to find out some information about something they will inevitably be forced to watch, Aycliffe Today have a short guide of what to expect from each team over the next three weeks.
Before we look at groups A and B, though, don't forget Newton Aycliffe FC are offering Newtonians the chance to win a cash prize as part of an exciting Euro 2012 competition.
Priced at just £1, punters can try to correctly guess across 15 categories, in the hope of scooping what the club hopes to be a major cash prize – 75% of income will be dished out in cash prizes.
Prediction sheets can be downloaded by clicking on this link: euro predictor
Completed sheets need to be emailed to organiser Paul McGeary, to [email protected], and payment can be made by using a safe bank transfer.
Euro 2012 Preview – Part One
GROUP A
Czech Republic: A strong Premier League connection, with Chelsea goalkeeper Petr Cech, Arsenal midfielder Tomas Rosicky and ex-Liverpool striker Milan Baros the stars of the side. Reached the final in 1996 and the semis in 2004, but won't be getting out the group this time.
Greece: Their success in 2004 was football's biggest ever upset. Complete no-hopers prior to the tournament, they defended as if their lives depended on it and won 1-0 in all three knockout games to lift the trophy. But they say lightning doesn't strike the same place twice, and Greece won't be winning anything this time.
Poland: The lowest ranked side in the competition, but will be spurred on by a vociferous home support. The hopes of the nation rest on striker Robert Lewandowski's shoulders. If he's on form, the Poles will reach the quarter-finals.
Russia: Lit up Euro 2008 when Andrei Arshavin inspired them to the semi-finals. While Arshavin isn't the same player today – he was booed out of Arsenal earlier this season – Russia are still capable of the odd dazzling performance. Thrashed Italy 3-0 in a warm-up game and will reach the knockout stages at the very least.
GROUP B
Denmark: If Denmark were drawn in Group A, they'd have been a decent bet to reach as far as the semi-finals. Instead, they're in the highest Fifa-ranked group in the history of the competition and are favourites for an early exit. They do contain one of Europe's most-exciting young prospects in Christian Eriksen, and Nicklas Bendtner will be a whole lot more useful for the Danes than he was on Wearside this season, but it's hard to see them making it out of the group.
Germany: As usual, Germany enter a Euros as one of the pre-tournament favourites. Unusually, they enter a competition as arguably the most exciting side to watch. Gone are the days of German efficiency (and hopefully their penalty ability with it) but their swashbuckling style should receive the admiration of most neutrals. Should escape the Group of Death and reach the final.
Netherlands: The World Cup finalists lost many admirers during the South Africa tournament. Their performance in the final against Spain, with the highlight being Nigel De Jong's kung-fu kick on Xabi Alonso, angered many neutrals who remembered the artistry of Johan Cruyff and Marco van Basten in the orange shirts. The Dutch will be hoping Arjen Robben, Robin van Persie and Wesley Sneijder can repair their image, and get them through the difficult group. They'll manage that, but won't be reaching the final again.
Portugal: With the best European player in their side, you'd expect Portugal to be better backed. Cristiano Ronaldo is good enough to beat any side in the world, if he's given the ball. But his homeland lack top quality central midfielders to do that meaning the Real Madrid star will be frustrated as he's sent on his summer holidays early following his side's group stage exit.
Come back tomorrow when we will take a look at Ireland's Group C, and England's Group D.