Newton Aycliffe's town clerk will spend his final day at the helm this week after stepping into retirement.
Andrew Bailey will work his last day at Great Aycliffe Town Council on Friday after 32 years with the local authority – 15 of which as town clerk.
The experienced local government officer has enjoyed a colourful career which has taken him around the North-East, the country and the world.
But after spending so long with Ayclife's parish authority, he looks back on a number of standout achievements during his time in the town.
And he's particularly pleased with community developments delivered by the local authority, including several popular MUGAs, BMX tracks and the nine-hole extension to Aycliffe's public golf course.
Andrew was schooled in Sunderland then later in Houghton-le-Spring Grammar School and Sixth Form.
His employment in local government started in 1973 as a local government management trainee with Sunderland Council.
While holding various roles there, Andrew continued his professional education at college in London to study for the Institute of Sport and Recreation professional membership and diploma levels.
"During this time I was also awarded a scholarship to study abroad," said Andrew.
"This involved a period of study in British Columbia, Canada."
In 1977, Andrew took up a post with one of the largest leisure facilities in the country – Crowtree Leisure Centre in Sunderland – before his next move took him further afield, working at the King Abdul Aziz Naval Base in Saudi Arabia, in support services, working with Saudi counterparts.
On his return to the UK in 1984, Andrew again entered local government and leisure services at the King's Sports Centre in mid-Sussex before returning to his native North-East in 1985 as Chester-le-Street District Council's leisure manager.
After gaining a post-graduate diploma in management studies from Teesside University, Andrew landed his first role with Great Aycliffe Town Council in 1989 as director of parks and leisure services.
Andrew explained: "The position required the management of all the sports, leisure, parks and cemeteries, allotments, golf course, driving range and events, as well as play groups.
"However, this was also to be undertaken while subjecting the council's grounds maintenance to compulsory competitive tendering of the service, followed shortly after with the tendering of the Sports Complex.
"During this period, I also undertook the role of Health and Safety Officer for the council, having obtained a NEEBOSH qualification."
Andrew's job title changed to director of leisure and environment before a period of further studying in 1996 with the Cheltenham and Gloucester College, gaining the Local Policy Certificate, the recognised qualification for parish and town clerks.
He was then promoted to town clerk with GATC in 2006.
"My standout memories in both roles are probably the major projects which were completed in my time," he said.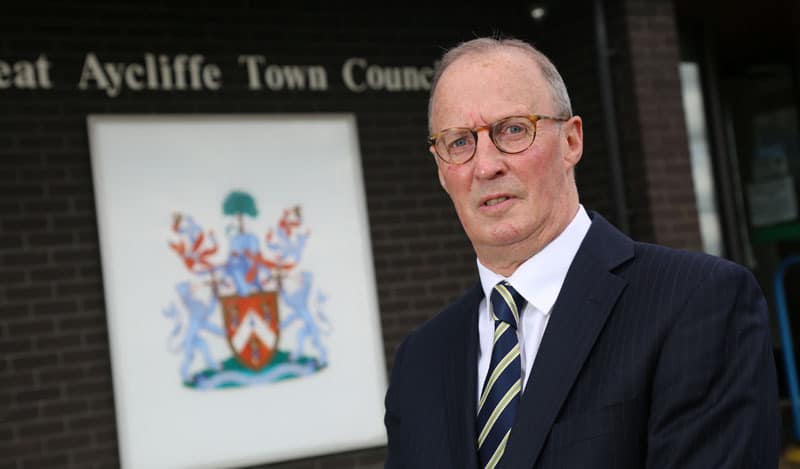 "They include the refurbishment of the Sports Complex, building a nine-hole extension and installation of irrigation to the golf course, the building of a much-needed works depot facility, development of the programme of events and permanent structures and art work for the 50th anniversary of the town, the development of the Great Aycliffe Way and later extending and adding a further loop.
"We also updated and providing new, modern and exciting play areas, BMX tracks and MUGAs; we designed and managed the construction of the Town Park, which is now a well-loved and used facility, as well as the design and development of the Aycliffe Angels Memorial Garden at St Clare's Church and Sheila's Garden at St Oswald's Park."
As town clerk, much of the work goes unseen, but is equally important – including production of an asset management plan, which informs the council's budget plans and spending, registering all of the council's land holdings and dealing with legal aspects such as leases.
Andrew added: "The town clerk is also responsible for overseeing the smooth operation of the council, its committees and sub-committees, and implementing their decisions, as well as leading and offering support to a dedicated team of managers and staff."
Andrew has seen lots of change during his 32 years in Aycliffe.
"Over my long career with the town council, I have seen the town grow and improve," he smiled.
"New housing has continued to be built on large sites, as well as infill sites. We have also had new housing developments which are not within the parish of Great Aycliffe, including in Heighington and Middridge parishes, but they are within metres of the boundary.
"The business park continues to expand and provides additional employment for residents and surrounding areas.
"Many new facilities, such as bars, gyms, cafes and leisure facilities have also sprung up and added a new dimension to what was originally an industrial/manufacturing trading estate."
Andrew has high hopes that Newton Aycliffe and surrounding areas within the parish will continue to grow and develop in the future.
"While there is limited expansion available to the west and north of the town, there is considerable housing development planned to the east of the A167," he said.
"Within this development will come an increased demand for services, whether on the site of the development or existing facilities in the town.
"Aycliffe Business Park continues to increase in size towards the A1(M), with large units becoming the norm. Hopefully this will provide further employment opportunities for residents."
Upon retirement, Andrew says he hopes to eventually see more of the world, once Covid restrictions allow.
But he added: "Initially, any plans will revolve around tasks at home, with a number of projects in the pipeline.
"My brother, who is a farmer, has already made it clear he can use any spare time I have!
"In the longer term, as the Covid pandemic recedes, I would like to think I could have one or two last ski trips before I become too old.
"My travel ambition is to visit Japan, see the country and people and hopefully visit some friends who live there."
And with that, Andrew signs off on his time in Aycliffe after overseeing an eventful and progressive period in the town's history, and adding a significant contribution that cannot be understated.