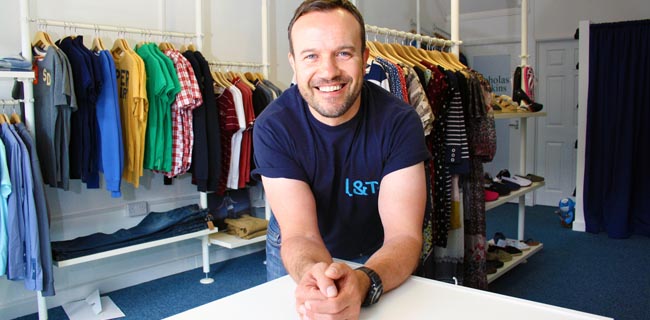 By Martin Walker
The owner of Newton Aycliffe's new clothes shop says it's about time men and women could buy designer labels on their doorstep.
Mark Shepherd opened Boola, Aycliffe's newest clothes shop for men and women, just a fortnight ago.
The lifelong Newtonian, who went to Woodham School, wants to provide the fashionable people of Aycliffe with somewhere to buy their clothes, instead of having to go to Darlington, Bishop or Durham for their clobber.
"I live in Aycliffe, I grew up in Aycliffe and I know there's a lot of fashionable people in Aycliffe," said Mark, in a Video Interview with Aycliffe Today.
"There are no menswear stores, although there's a few women's wear stores, so the thrust of Boola is to keep people in the town."
Mark previously had a Boola shop in Darlington and successfully relocated to Richmond four years ago.
He's now decided to branch into his hometown – and he's excited by plans to give the town centre a £3m facelift over the next three years, which will hopefully attract high street retailers to the town.
"When I was young, many moons ago, you'd come to the town centre and spend all day here," added the 46-year-old.
"I've seen the plans for the town centre and, if they're true to their word, it'll be an attractive town centre."
For men, Boola are stocking mid-range designer clothes and shoes from brands such as Superdry, Weekend Offender, Peter Werth, Fly53, Last and True, Nicholas Deakins and We Are Saints.
Boola also have a range of stylish but affordable women's wear lines from brands including Great Plains, Ichi, Vero Moda, Bench and Vila.
Mark has plans to expand the shop if it proves a success.
"We're also looking at other things like designer children's wear and sportswear," he said.
"We're only using a third of the shop's space at present. We're only here for three months to start with, it's a kind of suck-it-and-see exercise, but as soon as it looks like it's viable we'll move it back and expand to upstairs."
CLOTHES SHOP BOOLA'S IN TO TOWN!