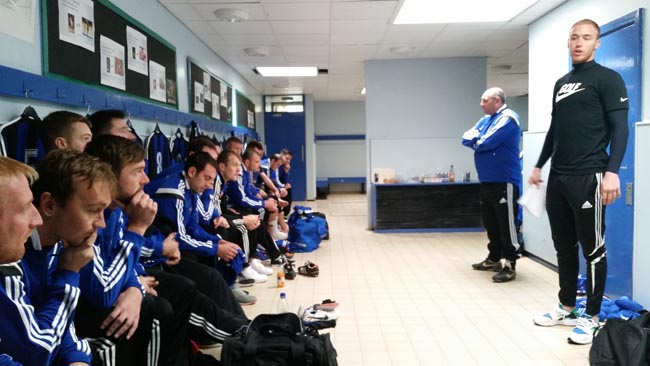 By Martin Walker
Newton Aycliffe Working Men's Club are on the brink of a major cup final with a crunch tie this weekend.
Jason Steele's Big Club side take on South Shields Rose & Crown at Woodham Academy this Sunday (22nd February, kick-off 10.30am) in the last four of the Durham County Cup.
The Club beat Winlaton Commercial 4-3 and then Hartlepool Throston Hotspur 3-1 in the quarter-finals to reach the semis.
Steele, the ex-Boro goalkeeper now with Blackburn Rovers, told Aycliffe Today: "It's a huge game for the club – one of the biggest for a long time.
"I think the last time an Aycliffe team reached the final of the County Cup was about 20 years ago or more, that famous old Big Club side, and to get to the final would be a massive achievement.
"It'd be great to see a big turnout on Sunday to get behind the lads and hopefully cheer them on to the final."
Steele's commitments with Rovers means he won't be able to take charge of Sunday's game, but the Big Club side will be managed by Dave Owen.
"It'll be a tough game but on our day we can beat anyone so we have to be confident going into the game," said Steele.
"The Rose & Crown beat Sedgefield St Edmonds in the quarter-finals, a top side in our league, so it promises to be a close game."
The Big Club are also in the quarter-finals of the League Cup this season and still have hopes of winning their division.
Steele, meanwhile, is enjoying life with his new club after signing a three-and-a-half-year deal with Rovers last month, and will soon be relocating to Harrogate, effectively a half-way house between Aycliffe and Blackburn.
"I'm loving it," he said. "I knew my days at Boro were numbered under the new manager ever since my first game, so I needed a new challenge and I'm thoroughly enjoying it.
"I'm delighted to see Boro doing well and I think they'll finish in the top two. Hopefully we can go on a run now and reach the play-offs."
The Big Club's game with South Shields Rose & Crown kicks off at Woodham Academy this Sunday, kick-off 10.30am, free admission.