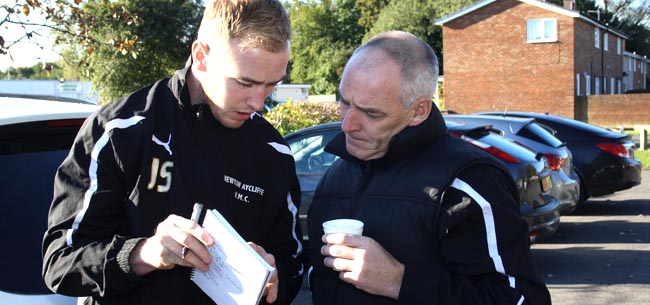 By Martin Walker
Newton Aycliffe Big Club are expecting a huge turnout for their historic FA Sunday Cup match in the town tomorrow.
Jason Steele's side will take on Winlaton Commercial in the first round of the All England Cup – the club's first-ever game in the 'FA Cup of Sunday morning football' – at Aycliffe FC's Moore Lane Park on Sunday (21st October).
Joint-boss Des Wood (pictured with Steele), who helps to run the side with Boro's Newtonian goalkeeper Jason Steele and club disciplinarian Dave Owen, is hoping for a big crowd.
"I'd like to think we'll get two or three hundred there," said Wood, in a Video Interview with Aycliffe Today.
"Hopefully the people will turn out, if they do we'll turn out and put a performance on, all being well."
Wood has praised the commitment and contribution to the club played by 22-year-old Steele, who offers a lot of his spare in running the club.
He added: "I've been involved over the last few years and I've been disappointed with the attitude of some of the people involved over the last three or four years, players letting you down week-in, week-out, but it doesn't happen when Jason's involved, his input is immense.
"He texts all the guys on a regular basis. If he's training on a Sunday morning he makes sure our side is picked and he's texted all the players to make sure they all know where we're playing, where we're meeting.
"The organisation is excellent and having him involved is a major plus for the club.
"He also hasn't forgotten where he came from and that's important. He does presentations for the kids on the town, he goes into the schools, he's a sporting Ambassador for his old school, Woodham Academy, it's fantastic, and it's great credit to the lad, he deserves all the luck."
Steele, meanwhile, remains cautious ahead of Sunday's big game.
"I wouldn't even dream of winning it at this stage. I don't think we're quite prepared to win that competition," he added.
"It's just part of a growing process for us. We've only been together for a couple of years.
"It's just good for all the lads to be involved and hopefully we can do well."
● Aycliffe WMC entertain Winlaton Commercial in the FA Carlsberg Sunday Cup at Moore Lane Park on Sunday 21st October (10.30am kick-off), with admission £2 for all. Address: DL5 5AG.