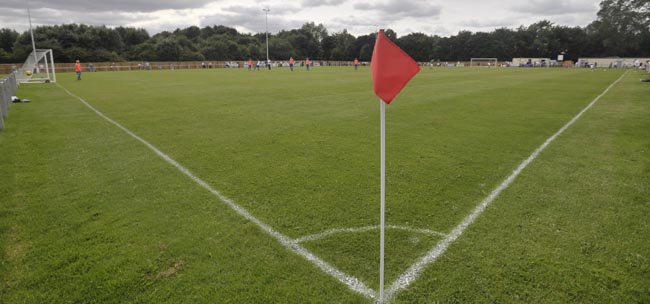 By Dan Lewis
Another unpredictable week in the life of an Aycliffe FC supporter!
Certainly this season hasn't been short of entertainment and talking points for fans of the Royal Blues.
Last weekend saw Oliver take his team up the A1 to face the students of Team Northumbria, who had been victorious in the League Cup tie the week previously at Moore Lane Park. And if revenge was their mission, all looked good when leading scorer Jamie Owens slotted home after just 6 minutes to give Aycliffe the lead. However, missing a number of key players through injury and unavailability, it was a lead Aycliffe were unable to hang on to. Team Northumbria came more and more into the game as the first half progressed, and gained a deserved equaliser on the half hour mark.
Aycliffe were forced into further changes at half time, with an unfortunate injury sustained by Paul Broom in a nasty looking challenge, again robbing Oliver of one of his more experienced men. With Team Northumbria taking the lead almost straight from the restart, it looked like being a long half for Aycliffe.
In truth, what followed was pretty one sided, and there were plenty of grumbles from the loyal army of supporters as they left the ground with the team having been well beaten 4-1.
And so to Tuesday and a trip to Billingham Town. Town were sat firmly on the bottom of the table, as yet without a point. Pessimists among the supporters were predicting Aycliffe could be just the team to change that for them!
However, with a number of senior players available again, the team had a more experienced feel about it, and again started well with Jamie Owens once again getting the Royal Blues an early lead. With Billingham forced into 2 substitutions due to injury, when Stuart Owen slotted home Aycliffe's second, it started to look more promising!
However, it's never as straight forward as that as an Aycliffe fan! When the home side pulled a goal back on the stroke of half time, Oliver's team talk all of a sudden needed to be re-written! Supporters feared the worst!
Once again though, it was Jamie Owens who proved the 'go-to' man, as he slotted home at the near post at the start of the second half to give Aycliffe a 2 goal cushion once again. Soon after, the hosts missed a gilt-edged chance to pull a goal back, and that seemed to suck the life out of them, as soon after Owens completed his hat-trick. When Dan Wilson scored his first goal for Aycliffe, the score had a more comfortable look about it, and Owens finished proceeding off with his 4th of the night to give Aycliffe a comfortable 6-1 victory.
Next up sees another trip up the A19 as Oliver takes his men to face Ashington. Given recent results and performances, few can predict the outcome!
Aycliffe have also announced details of an upcoming 'Winter Fayre'. The event will be held at Newton Aycliffe Sports Club on Saturday 30th November while the team travel to Morpeth. It offers the perfect opportunity to start, continue or finish your Christmas shopping, with a range of stalls available. Anyone interested in having a table at the event is asked to contact Donna Bell via the Sports Club on 01325 312768, or any member of the Football Club committee.