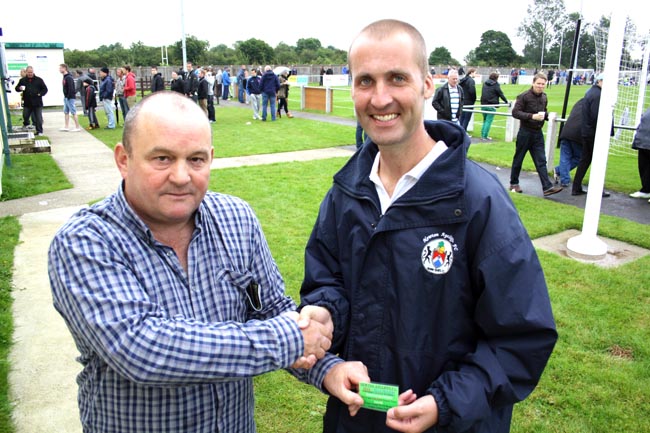 By Martin Walker
A passionate football fan has thrown the gauntlet down to local companies to get behind his struggling club.
Super Fan Mick Thompson is pumping £2,000 of his own cash into Aycliffe's coffers for the 2012-13 season – and now he's urging companies to follow suit.
The proud Newtonian, who works as a safety advisor, wants to do his bit for the County Durham club after watching them scale the leagues in recent years.
Aycliffe powered from the parks of the Durham Alliance League to the Ebac Northern League first division in just four seasons.
But after a comfortable debut top-flight campaign last season, they're currently bottom of the table and strapped for cash.
Mick has agreed to help out with his substantial donation – but is disappointed Aycliffe don't enjoy the same support from big local firms.
"I want to help out as much as I can and I'm surprised the club doesn't get as much support as it should from local companies," said the father-of-two.
"You can see from adverts around the pitch at Moore Lane that a lot of the small firms and one-man-bands do their bit, but there are a lot of big firms in Aycliffe, turning over millions of pounds on our doorstep, who give nothing.
"I know football isn't for everyone, but surely these firms can do more for the town's only football club?
"It's run by a dedicated, hard-working team of volunteers who are all trying to raise the money that's needed to service a Northern League first division team, and they're fighting with their hands tied behind their backs because their competitors enjoy huge support from their local companies.
"Aycliffe don't just need more business support, they deserve it."
Aycliffe general manager Dan Lewis, pictured handing Mick his "complimentary" season ticket, added: "Backing like this is fundamental, and we could do with another nine of Mick doing the same!
"Support from the local business community admittedly isn't good. We appreciate it's a difficult climate right now, but if our smaller firms can help out, and individuals like Mick, then you would think the multi-million-pound corporates could help out in some way.
"We'll keep working on it, but it may get to a point where we have to ask the question, does Newton Aycliffe actually want a Northern League first division club?
"We think it does. The management team does, which is why they brought us here, but when we say we're desperate for more business support, we're not joking."
Despite requests for sponsorship in the past, the football club are yet to receive any support from the likes of Tallents, Ebac, 3M, Roman Showers, Flymo and supermarket giant Tesco, which turns over £50m at its Aycliffe store but can't sponsor a penny because of "company policy".
● Any firms or individuals who'd like to sponsor Aycliffe can contact Martin Walker on 07826 525907 ([email protected]), or Barry Waters on 07864 718243 ([email protected]).