By Donna Reece
The weekend of March 24/25 was yet again another busy weekend for the runners of ARC.
First up was Trish Kay who ran the 14 mile road race at Coniston Water. This is the area largest community event and money raised from this is donated to local clubs and charities. It attracts approx. 1600 runners each year. The route starts and finishes at John Ruskin School and proceeds in an anti-clockwise direction round the lake and is very undulating following a windy road that circles Coniston water. Trish completed the race in 1 hour 58 minutes.
On Sunday runners competed in three different races in the region. Firstly was the South Park 20 which took place in Darlington South Park and which consisted of 20 x 1 mile laps. This is quite a popular race for those marathon training as it enables a long run with other people and helps break the monotony that can come with marathon training. Results for this were :- Mark Bainbridge 2:42;06, Dave Blewitt 2:45:19, Rob Nicholson 3:11:50, Julie Nisbet 3:13:15, Ian Baronowski 3:25:42, Richard Tonge 3:35:43.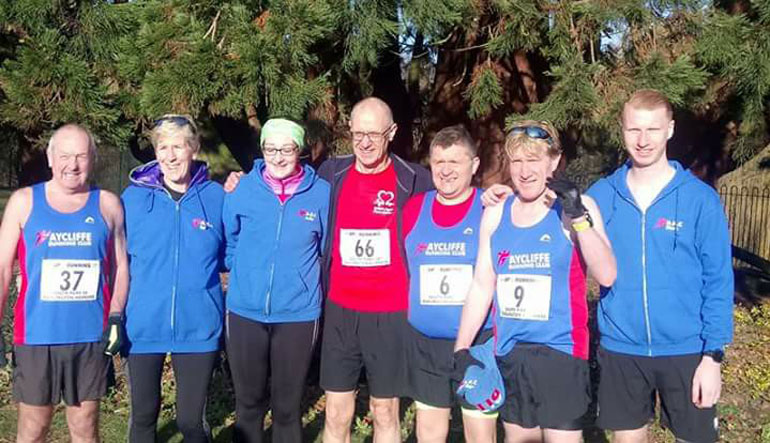 In addition some members took part in the Final Race of the Winter Trail Series. This was a 5k at Ropner Park in Middlesbrough. The race was run entirely on tarmac but unusually was run the opposite way round to usual however, this didn't seem to affect times. First home for the club was Richard Holland who was 25th with a PB of 21.32, next was Susan Milburn, 56th in 25.26 and First Female 0/55, Ray Todd followed in 35.30 with Julie Spring completing the race in 37.21.
Finally on Sunday a large number of runners attended the inaugural 10k race at Dishforth Airfield. Although the base is still an active military base, the airfield has been decommissioned and the race was arranged to raise funds for ABF The Soldiers Charity. As you would expect the course was very flat which made for a good PB course and assisted by the good weather several runners achieved PBs. First home for the club was John Surtees, 6th in 35.58, Paul Dalton followed in 38.49 (however, Paul is a second claim member and was running for his first team in this race) Richard Campbell followed in in 39.21, Tracey Surtees followed in 41.34 and was second female overall, Robert Young 43.17, Angela Barrett 48.48, Heather Fenwick 54.46, Lindsey Brown 56.59, Denise Evans, 1:00:32, Donna Campbell 1:00:38, Susan Clark 1:04:19, Eve Doe 1:04:56, Jane Quigley 1:04:58, Jan McLuckie 1:18:07, Lisa Dowell 1:21:49 and Carrieann Ingledew 1:21:50.
On Sunday Evening John Heywood participated in the Night Sky 14 mile run in Keilder which as suggested was run in the evening. He completed the challenging 14.6 miles race in 2 hour 47 mins.
Final Mention should be made of Judith Porter who recently took part in the Hong Kong Marathon . Judith completed this race in 5 hours and 18 minutes after falling at mile 15 and spending 15 minutes in the medical tent. The day before the race the organisers held a friendship run of 4k for all the foreign runners. This was non-competitive and the atmosphere was great. Judith really enjoyed the race despite her fall as it was well organised and well supported throughout.