By Donna Campbell
It was another successful weekend of racing for ARC with members flying the flag for the club over in Europe.
The racing this past week began on Wednesday night when a good number of runners attended the first race in the Darlington Summer Trail 5k Series.
This one known as the Rocket took place just outside of Darlington at Middleton St George and took place along the old railway line from Darlington to Stockton.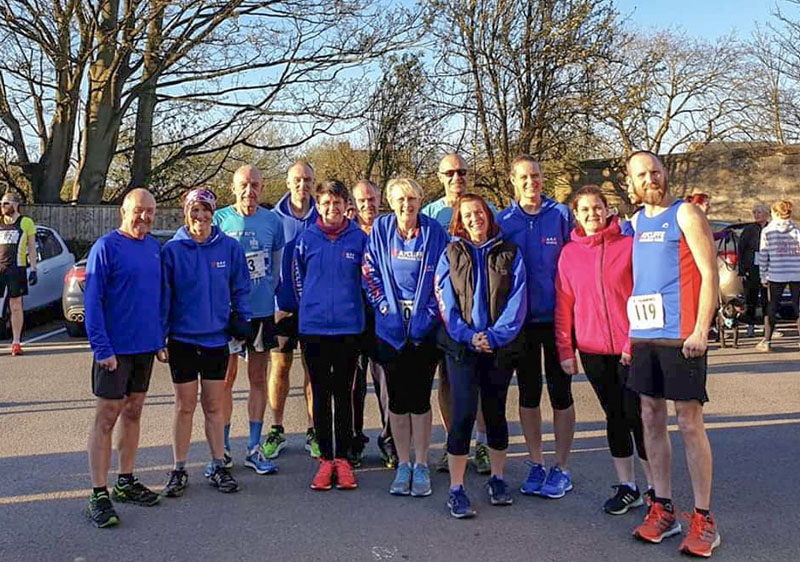 It was an out and back race and first home for the club was Dez Fielden in 19.40 followed by Richard Holland 21.24, Alan Wilks 23.41, Susan Milburn 26.10, Rob Nicholson 27.25, Mandy Heywood 27.44, John Heywood 27.44, Heather Fenwick 28.26, Gem Holland 29.06, Lindsey Brown 29.14, Denise Evans 29.29, Richard Tonge 30.38.
Also on Wednesday night two members took place in the Coast Road 5k. This is one of a popular series of races that take place along the coast road at Marske. First home was Mark Wade in 17.17 followed by Paul Dalton in 17.58 (running for his first club Quakers of Darlington).
On Saturday we had two members achieve PB's at Shildon's Hackworth parkrun on what was the 300th event. Tracey Pickering achieved a PB of 30.52 followed by her Husband Cliff Pickering in 32.13. There was cake at the end and this may have spurred them on.
Sunday was the main race day with members taking part in all different races.
First up Rob Nicholson and John Heywood took part in the Guisborough Moors fell race which is a tough 12 mile race that takes Roseberry Topping in its route. Rob completed this in 2:33:01 followed by John in 2:33:27.
In Durham, Richard Tonge was competing in a new race Star Wars Episode iV A New Run. This was a 7 hour timed event in which you chose the distance you wished to run. The organisers had mapped out an approximate 5k lap along the river and runners could do as few or many laps as they wished within the 7 hour period. Provided you completed at least one full lap, you obtained a themed medal. Richard Tonge completed two laps totalling 6.57 miles in 1:09:37.
Down in York we had one member, Trish Kay take part in the Vale of York 10 mile race. This races takes place on the country lanes to the west of York/East of Leeds finishing at the York Gliding Centre, Rufforth. Although it was a cold and breezy day, Trish enjoyed the race completing this in 1:20.
Down in Brighton Simon Matthew Turner took place in the Marathon. This is a relatively new but popular marathon and Simon completed this in 4.52.49.
The next stop was Paris where Julie Nisbet took part in the Paris Marathon combining this with a family holiday. Despite training not going to plan due to injuries Julie completed the marathon in 4.56.33.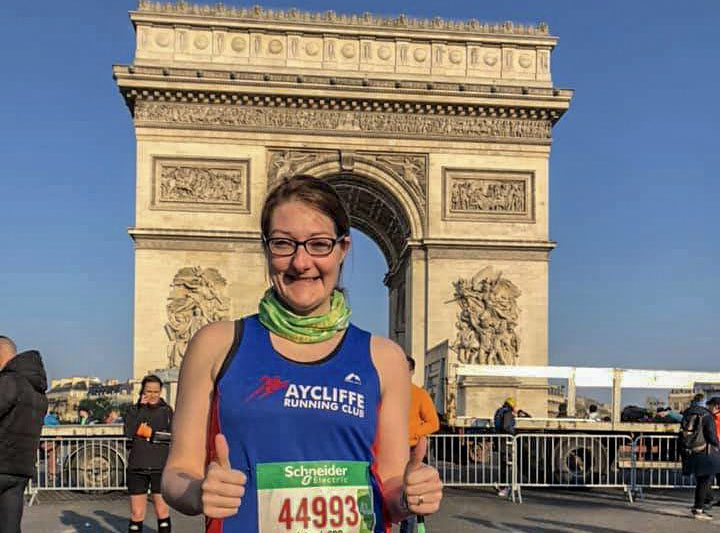 Finally we turn back to the UK and to Hartlepool in particular where the largest number of our runners could be found.
It was the popular Hartlepool 5 mile race which starts at the Historic Quay taking the runners out along the promenade to Seaton Carew before turning them back to finish close to where they started.
It was colder and windier this year than it had been for the past couple of years but this didn't stop our runners with many achieving PB's and some achieving prizes.
First home for the club and 9th overall was John Surtees in 27.40. he was followed by Mark Wade 28.16, Dez Fielden 29.27, Paul Dalton (running for Quakers) 30.02, Floyd Jones 30.07, Richard Cambell 30.17, Andy Talbot 31.38 Richard Holland 32.15, Alan Wilks 34.50, Trevor Needham 35.35, Dave Blewitt 35.56, Michelle Zamir 36.32, John Burnside 36.33, John Richardson 38.43, Sarah Dixon 38.59, Michael Lloyd (running for Crook) 40.08, Sandra Collins 40.49, Mandy Heywood 42.19, David Stothard 42.29, Heather Fenwick 42.58, Denise Evans 44.06, Mick Brunskill 44.59, Gemma Holland 45.10, Ian Baronowski 45.12, Sandrine Boinet Hewitt 48.04, Stuart Joyce 48.33, jane Burnside 49.00, Yvonne Williams 49.21, Susan Clark 49.26, Lisa Dowell 53.20, Jan McLuckie 53.21, Sam Baronowski 55.26, Eve Doe 56.10
The prize winners were Floyd Jones 2nd V55, Alan Wilks 1st V70, Michelle Zamir 2nd V40, Sandra Collins 2nd V50.
For anyone interested in joining the club, you can simply turn up at one of our sessions all of which start from the Oakleaf Complex in Newton Aycliffe.
Monday night is beginners run at 6.30pm, Tuesday is endurance/speed session from 7pm, and Thursday is a track session and this takes place at Shildon Track.
Further details can be found on our website or facebook pages or alternatively you can message the club via facebook for more information.