By Donna Campbell
After a few quiet weeks it was a full return to racing last weekend.
Starting with the local Parkruns on Saturday morning two members achieved PB's at the Darlington Parkrun. Lisa Dowell in 34.51 and Jan McLuckie in 34.52.
On Saturday afternoon it was the next cross country race in the NEHL, this one taking place at Thornley in County Durham. Despite the threat of Storm Erik, we still had 6 hardy male members turn out for this. This course is the hardest one in the NEHL in terms of its hilly profile but also the weather meant that the ground underfoot was very soft and provided the 'clarts and mud' that have been missing over this season. It was therefore a true cross country race.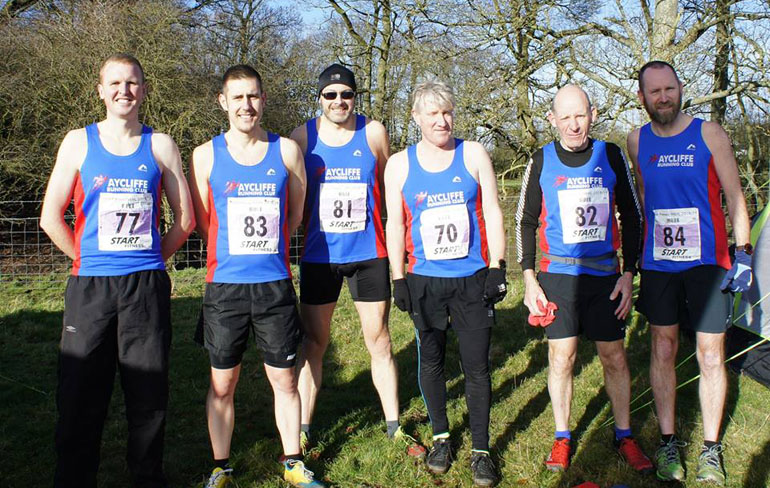 First home for ARC was Paul Dalton in a time of 39.56. Paul started in the medium pack and therefore had a handicap on the runners starting from the slow pack. He was followed home by Richard Campbell in 42.33, Mark Wade in 38.39 (Mark started from the fast pack and had an additional handicap on that of Paul), Peter Milburn 45.58, Richard Holland 46.38 and Dave Blewitt in 54.54.
On Sunday there was a great turnout from the club for the Absent Friends Trail Race. This is a course that was just short of 5 miles and is run around the Cowpen Bewley Woodland Park, Billingham on a mix of terrain. It has always been a popular race with the club and indeed is part of the club championship races.
First home for the club was John Surtees in 29.02, followed closely by Mark Wade 29.10, Richard Holland 32.22, Andy Talbot 33.12, Tracey Surtees 34.13, Stuart Joyce 36.03, John Burnside 37.05, Trevor Needham 38.38, John Heywood 40.39, John Richardson 40.49, David Stothard 43.04, Trish Kay 44.32, Lindsey Brown 46.07, Heather Fenwick 46.09, Rob Nicholson 47.46, Linda McNamee (running for her first team Hunwick Harriers) 47.51, Kathleen Tonge 48.14, Richard Tonge 49.14, Gemma Holland 49.22, Denise Evans 49.55, Sandrine 51. 16, Susan Clark 55.53.
Also on Sunday father and son competed in the Muddy Boots 10k at Ripon. This is a race which starts and finishes at St Wilfrid's school and incorporates a run through multi-terrain, over undulating farmland and countryside. Rob Young completed this in 46.33 and John Young in 1.00.07.
For anyone interested in joining the club, you can simply turn up at one of our sessions all of which start from the Oakleaf Complex in Newton Aycliffe. Monday night is beginners run at 6.30pm, Tuesday is endurance/speed session from 7pm, and Thursday is a track session and this takes place at Shildon Track. Further details can be found on our website or facebook pages