By Donna Campbell
Well the New Year of racing got off to a flying start with two male members taking part in the Captain Cook Fell race on New Years Day.
This race starts at Great Ayton and climbs to the Captain Cook Monument at the top of the hill before descending back to Great Ayton. The total distance is just short of 5 miles.
Mark Wade was first home in 35.58 (20th Place) with Lee Wren coming home in 44.40.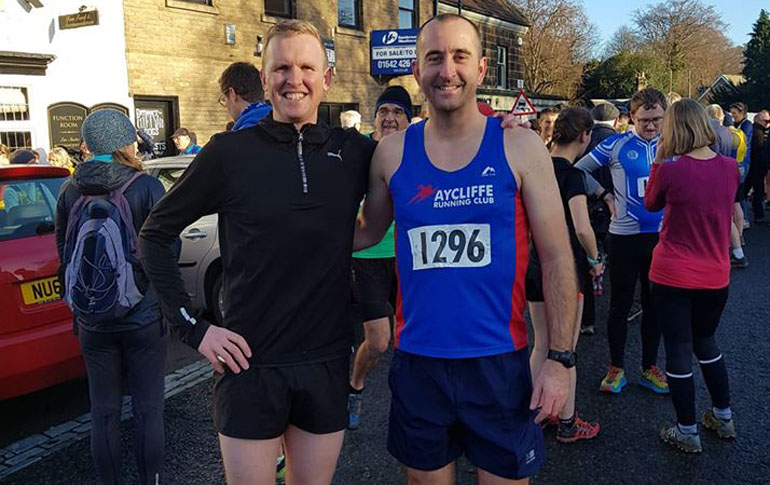 On Saturday 5th January 2019 Lisa Dowell achieved a PB at the parkrun at Hardwick Park Sedgefield in 39.30,
Saturday also saw a return to the Cross Country racing with a fixture in the Harrier League, for the Sherman Cup at Temple Park, South Shields.
This is a 'lumpy' route but for which most really enjoyed the race although this was probably helped by the fact that the weather was again in the runners' favour with it remaining unusually dry (as it has since the start of the season).
As always, the men's distance is approximately 5.5 mile and the women's around 3.5 miles,
First to run were the women with Tracey Surtees coming in at 26.10m followed by Michelle Zamir in 28.55 and Sandrine Boinet-Hewitt in 39.07.
In the men's race, Mark Wade was first home in 35.44, followed by Andy Talbot 37.59, Richard Campbell 38.47, Richard Holland 39.10, Trevor Needham 42.40 and Alan Wilkes 44.26.
On Sunday we had several members take part in the Old Monks race (pictured top) which is in the area surrounding Hart Village near Hartlepool. This is a tough, undulating and off road race of approximately 5 mile.
Again the weather was good for the time of year. First home was Richard Holland in 39.31, followed by Simon Turner 47.39, David Stothard 50.22, Rob Nicholson 51.20, Lindsey Brown 55.24, Mandy Heywood 57.15, Gemma Holland 58.29 and Angela Sutheran (acting as pacer for a friend) in 1.09.11,
For anyone interested in joining the club, you can simply turn up at one of our sessions all of which start from the Oakleaf Complex in Newton Aycliffe. Monday night is beginners run at 6.30p.m., Tuesday is endurance/speed session from 7.00 p.m., and Thursday is a track session and this takes place at Shildon Track.
Further details can be found on our website or facebook pages or alternatively you can message the club via facebook for more information.