By Donna Campbell
It has been another great week of racing for ARC with members competing in races far and wide.
The racing began on Saturday 13th October 2018 with Mark Wade who travelled to Glenridding in the Lake District to compete in the Helvellyn 10k. The race went ahead despite the weather which caused flooding in the local area and trails turned river like. Regardless of this Mark completed the tough race in a time of 38.59 securing third place overall.
On Sunday six members travelled to Yorkshire to participate in the Richmond Castle 10k. This is another tough and hilly route in the grounds of Richmond Castle taking in the Richmond Falls and Catterick Garrison before returning to finish in the Castle Grounds. It wasn't helped by the continuing bad weather which made part very slippery. First home for AR was Stuart Joyce in 43.45, followed by Trish Kay in 54.01, David Stothard in 58.43, Susan Clark in 1.04.26, Jane Quigley in 1.06.14 and Eve Doe in 1.14.40
A bit further south we had members competing in the Yorkshire 10 mile and Marathon. In the 10 mile race Sandrine Hewitt completed this in 1.41.51 followed by Lisa Dowell in 146.16. In addition Martyn Knox and Carley Gibson took on the challenge of the Marathon which Martyn completed in 4.22.02 and Carley in 6.39.37.
Back in Middlesbrough it was the start of the NYSD Cross Country League and the club had a good turnout of runners for the first event in Acklam Grange in which the women run approximately 5k and the men 10k. It was a typical cross country race with plenty of climbs and turns and indeed plenty of mud produced by the nicely timed heavy rain. Indeed the rain came down for the whole of the racing.
First up was one of our Juniors Felicity Lineton (pictured top) who ran her first cross country race for the club. She ran in the under 11's and completed her race in 8.26.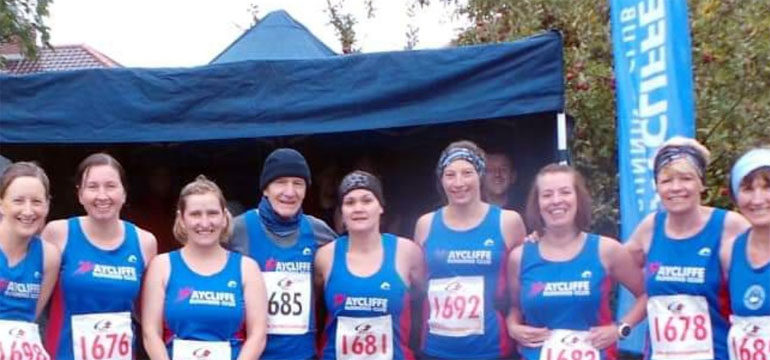 Next up were the females and first home for the club was Tracey Surtees in 23.03, followed by Michelle Jane in 23.43, Michelle Zamir 25.15, Susan Milburn 27.51, Heather Fenwick 30.18, Gemma Holland 31.49, Jane Burnside 33.46, Donna Campbell 36.06. Ray Todd also ran the 5k distance in the over 80's category and he completed this in 40.52.
In relation to the men's race, John Surtees was first back for the club in 37.47 followed by Mark Wade, 38.33, Dez Fielden 40.31, Peter Milburn 41.44, Richard Campbell 43.28, Richard Holland 44.05, Alex Lineton 50.42, Rob Nicholson 55.12 and John Richardson 1.02.46.
Last but not least, Richard Tonge (whilst visiting family) took the opportunity to race in the Peterborough Half Marathon. He completed this in 2.13.31.