By Donna Campbell
This week's racing was completely varied with members taking part in road races, trail races, fell races and cross country.
The racing began as is often the case on Saturday with the local parkruns being the venue.
Three members achieved PB's. At Sedgefield Jane Quigley in 28.54, Melanie Rowland in 29.11 and over at Shildon Craig Robinson in 30.11.
Also on Saturday it was the first cross country meeting. This meeting was part of the Harrier League and took place at Wrekenton, Gateshead. Although the weather conditions meant the ground was good to run on it was still a tough course.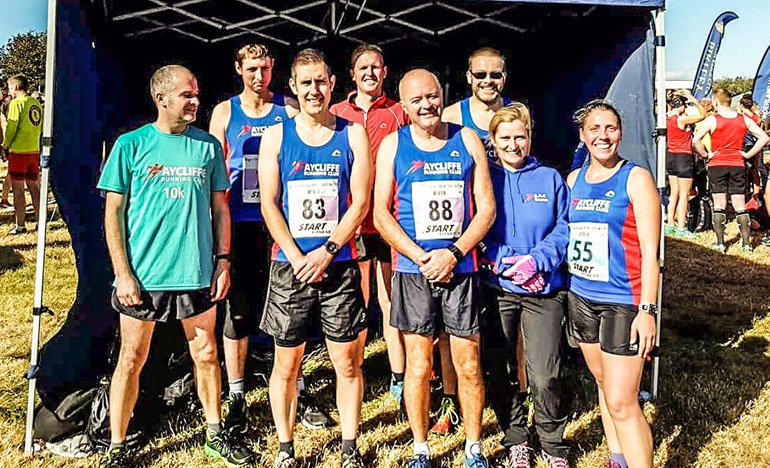 There were only two of our ladies taking part on this occasion and for them it was two laps of the course totalling approximately 4 miles. Michelle Jane was first home in 29.07 followed by Sandrine Boinet-Hewitt (on her first cross country event) in 40.22.
It was then the turn of the men for whom the course was approximate 6 miles (3 laps). Mark Wade was first home in 35.29, followed by Dez Fielden 37.58, Paul Dalton 38.21, Martyn Knox 43.41, Richard Campbell 44.27, Trevor Needham 46.28 and Rob Nicholson 51.48.
On Sunday five members attended the Wynyard 10k Trail Race.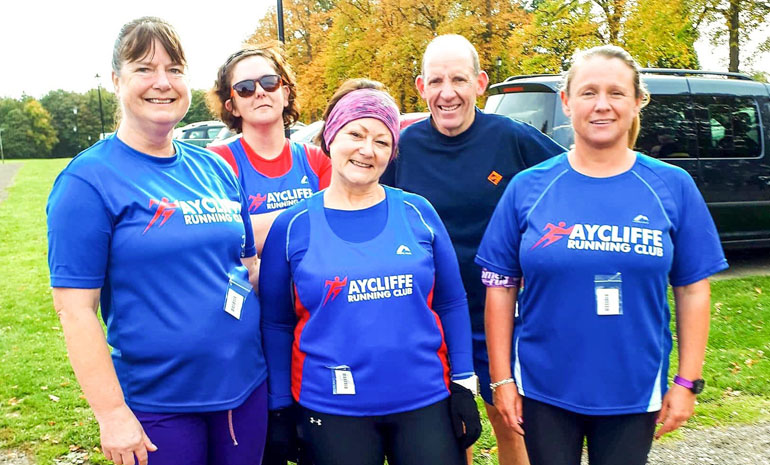 As expected this course takes place around the trails of the Wynyard Estate. Peter Milburn was the only man taking part and he was first home for the club in 40.29 followed by Bev Phillippo 59.10, Eve Doe 1.11.24, jan McLuckie 1.16.37 and CarrieAnne Ingledew in 1.26.38.
Paul Dalton travelled to Penrith where he took part in the Stoneybeck 10k. he completed this in 37.34 and was 1st Vet 40.
Next up was the Redcar Running Festival (top picture). This is an event that has grown in recent years.
Initially just at 5k and Half Marathon there is now also a 10k event included. All of the races comprise and out and back course along the front and I think all members agreed that it wasn't the most pleasant coming back into a headwind.
We had only one member taking part in the 5k this year. Jane Burnside completed this in 30.34.
In the 10k Richard Holland was first home for the club in 41.51, followed by Mark Bainbridge 46.09, Trish Kay 49.19, David Stothard 53.32, Gemma Holland 58.33, John Richardson 1.00.03 and Sam Baronowski in 1.08.55.
Four members took part in the half marathon. First home for the club was Angela Sutheran in 1.48.15 followed by Rob Nicholson in 1.56.49, Ian Baronowski in 2.06.21 and Susan Clark on 2.21.38.
Last but certainly by no means least, Sunday saw one member take on a fell race, The High Fells of Thrunton Half Marathon.
This event takes place hear Alnwick. Julie's description of this race was "fell racing isn't good for running style, your hips go flying in strange directions, ferns are dangerous and may cause faceplanting in a bog, when you enter such a race expect an additional mile or so to be added to the distance but most of all, expect to bizarrely enjoy it and have an amazing social experience with wonderful people." Julie managed to complete this in 4hour 8 minutes.