By Donna Campbell
It has been a great festive period for ARC with runners taking part in many races over Christmas and New Year.
On Saturday December 22, several members attended the Saltwell Park 10k (pictured below). This is an undulating course in the grounds of Saltwell Park, Gateshead.
First home for the club was Richard Holland 43.16, followed by Alan Wilks 48.27, Simon Matthew Turner 50.53, Trish Kay 50.58, Angela Sutheran 52.54, Lindsey Brown 1.00.52 and Gemma Holland 1.02.27.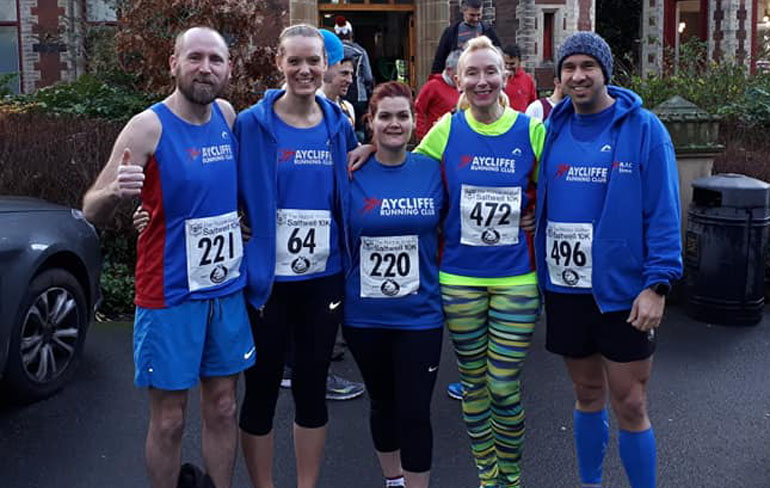 The following day members attended the What A Wheeze Xmas Cracker race which took place in Ropner Park in Stockton (pictured top). Most of the members really got into the Christmas Spirit and attended in Fancy Dress.
On this occasion, first home was Mark Bainbridge 19.59, followed by Trish Kay in 28.28, Penny Johnson 34.49, Jane Quigley 35.53, Eve Doe 35.53, Ray Todd 36.24, Jan McLuckie 38.01.
On December 29, Peter Milburn secured a PB at Darlington Park Run in a time of 19.15.
The final race of 2018 for ARC was the Jolly Holly Jog around grounds of Fountains Abbey in Ripon and is a tough mainly off road 10k race (pictured bottom).
First home for the club was Richard Holland in 44.24 followed by Mark Bainbridge in 47.04, Sandra Collins 54.15, John Joseph Richardson 57.54, Ian Baronowski 59.45, Kathryn Waterworth 1.02.06, John Young 1.03.14, Richard Tonge 1.06.14 and Stephanie Johnson 1.30.24.
Finally, on New Year's Day, a number of our runners took part in the double parkruns with many running Sedgefield and Darlington respectively. One runner Andy Talbot managed to secure a PB at Sedgefield in a time of 20.15.
For anyone interested in joining Aycliffe Running Club, you can either turn up at a session or contact us via the website or facebook. All sessions are posted to our website and are advertised on our facebook page. We cater for all abilities from beginners to more seasoned runners.