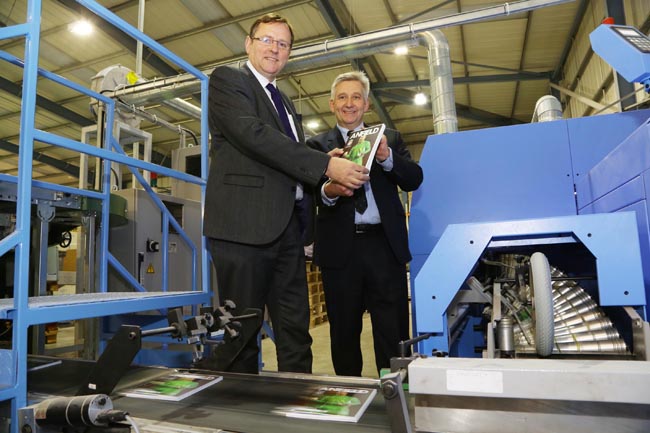 By Martin Walker
A Newton Aycliffe company famous for printing football publications has won a £200,000 contract to print Liverpool FC's matchday programme.
And the local MP visited the premises of HPM Group on Aycliffe Business Park to celebrate the deal.
The 100-year-old firm, based at Park 2000 on Heighington Lane Business Park, has produced Middlesbrough's matchday magazine since the 1980s and over the years has also printed them for Newcastle United, West Ham and Aston Villa.
The company, which employs 45 staff and operates a 24-hour printing service which turns over £4.5m a year, currently prints the matchday magazines for Sunderland, Boro and Notts County as well as several Rugby League clubs.
HPM also boasts firms such as PWS, Wynyard Hall, Durham University and UEFA among its impressive client list.
Depending on how many home cup games Liverpool have this season, the Anfield deal could be worth in excess of £200,000 for HPM.
Managing Director Richard Mortimer said: "It's prestigious for us. We're producing 15-16,000 programmes every game for Liverpool, which is a very nice print run for us, so it's prestigious as opposed to game-changing for the company."
Go to our Video Vault to see our Video Feature
Phil Wilson, the Labour MP for Sedgefield (pictured above with Mr Mortimer), visited the premises of HPM to visit staff and see how a match programme is produced – from the design, to the plating, to the printing and folding.
He said: "The technology is just so far advanced now. Some of the printing machinery they have is some of the best in the world.
"It was an eye-opener to see how the programmes are put together, and as a Boro fan it's great to see theirs being produced in my Constituency.
"I've ended up on the front cover, but I can't see me ever playing for them!"
Mr Mortimer added: "We're very proud of what we've got here. We've got a lot of technology and a lot of investment.
"We work with companies throughout the UK, and I think Phil was genuinely surprised by the quality of work we're putting out."
HPM was the first company to reside on Park 2000 at Heighington Lane Business Park in Aycliffe when they relocated there from Bishop Auckland in 2000, and their impressive building was opened by then Prime Minister Tony Blair.
Since then they have evolved into the marketing, creative, print and new media experts.
"The service we provide is built on talented individuals and our passion shines through in the work we produce," said Mr Mortimer.
"We haven't forgotten our printing roots – we have embraced over a hundred years of changing times, from our first steps in print, to the amazing advances in the products we now offer."
More details about HPM can be found at www.hpm.uk.com