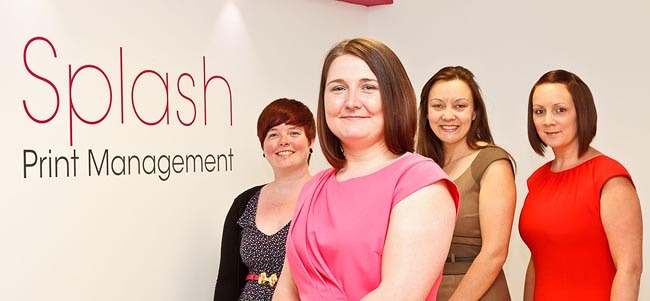 By Martin Walker
Newton Aycliffe-based Splash Print Management is bucking the current economic downturn by taking on new staff and quadrupling its office space.
The company, which specialises in tailored print management services for a variety of businesses and organisations all over the North of England, was established in January 2011 and is based at Aycliffe Business Park.
Splash has recently re-located from its 242 square foot offices in Parsons Court in The Hub to 1000 square foot offices in Synkro House, also in The Hub at Aycliffe Business Park.
To cope with the growth in business, Splash increased its team from three to seven and plans to increase this to around twelve in the next year.
Splash specialises in helping businesses and organisations of all sizes to reduce print costs, improve their marketing operations and become more efficient.
The company was established by Sharon Hutchinson, from Newton Aycliffe, after recognising a gap in the market for print management services aimed at businesses of any size that wanted flexibility and to be able to work on a contract-by-contract basis.
Splash works with a wide cross-section of organisations by providing a free audit of their printing services and helps many to save up to 40% on print spend by sourcing the best suppliers for specific jobs.
Splash can offer its customers this service thanks to its managers combined experience of many years in customer service and franchising and over twenty years working directly in the print trade.
The business has a strong network of local suppliers that offer the best rates depending on the job so that every project is assigned to the most suitable and cost-effective printer.
Splash works with businesses and organisations- large and small- in a variety of sectors, both public and private, providing marketing departments with expert advice on all areas of print.
Sharon Hutchinson, who established Splash Print Management, said: "Many people thought we were mad to launch in a recession, but we've had a real influx of work because we've found a niche in the market to help all businesses – large and small – save money.
"One size doesn't fit all when it comes to printing services – different projects demand different printers.
"We do all of the management – even providing a free audit – to ensure businesses get the best deal. We've saved some people up to £40,000.
"We can do this because we have the time, expertise and – more importantly – the best local contacts to save our clients time and money whilst at the same time enhancing their marketing.
"In the past, it has only been large business that could afford print management but we feel we're creating a mini-revolution in how businesses of any size can now buy print services whilst also using a reputable company that will always maintain brand integrity."
Visit Splash's website: www.splash-pm.co.uk