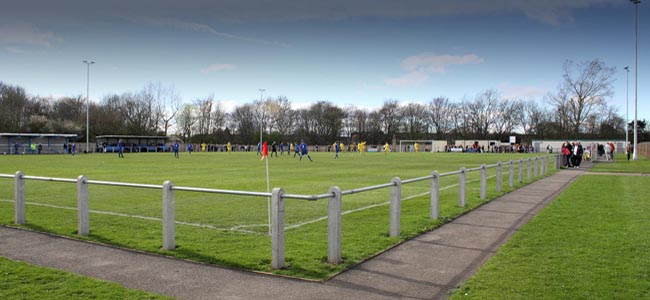 By Martin Walker
Newton Aycliffe have been ranked 30th in a league table of foul mouthed Northern League clubs.
That means they're the 17th best, out of 46 teams in the Ebac Northern League, after a "Secret Shopper" initiative by the league to target offensive language.
According to the results, title-chasing West Auckland have finished top, with an average mark (out of 5) of 3.25.
Three-times champions Spennymoor are second with a mark of 3.32 and Ryhope Colliery Welfare are third (3.33).
Bishop Auckland are ranked 11th-worst (3.70), while Darlington are 25th with an average score of 3.94.
Aycliffe are ranked 30th with an average score of 4.13.
General manager Dan Lewis said: "We're relatively pleased that we're 17th best out of 46, but I wouldn't say we're happy with that.
"We take offensive language very seriously and we welcomed the league's Secret Shopper initiative.
"We want to attract families to watch games at Moore Lane Park, so we'll be working hard to further improve our record."
Clubs were marked out of five in each of four categories – players' language, technical area language, technical area discipline and spectator behaviour, in which category marks are almost always high.
The initiative is running in tandem, with the FA's own Use Your Head scheme – also aimed at offensive language – and will continue at least until the end of the season.
WEST & SPENNY TOP FOUL MOUTHED FOOTY TABLE
The full table is as follows:
| | | |
| --- | --- | --- |
| Pos. | Team | Average score (out of 5) |
| 1 | West Auckland | 3.25 |
| 2 | Spennymoor Town | 3.32 |
| 3 | Ryhope CW | 3.33 |
| 4 | Norton & Stockton Ancients | 3.36 |
| 5 | Esh Winning | 3.38 |
| 6 | Morpeth | 3.39 |
| 7 | Sunderland RCA | 3.39 |
| 8 | Horden CW | 3.50 |
| 9 | Tow Law | 3.50 |
| 10 | Penrith | 3.56 |
| 11 | Bishop Auckland | 3.70 |
| 12 | Seaham Red Star | 3.75 |
| 13 | Whickham | 3.75 |
| 14 | Celtic Nation | 3.75 |
| 15 | Washington | 3.78 |
| 16 | Shildon | 3.83 |
| 17 | Thornaby | 3.83 |
| 18 | South Shields | 3.88 |
| 19 | Stokesley | 3.88 |
| 20 | Durham City | 3.90 |
| 21 | Newcastle Benfield | 3.90 |
| 22 | Hebburn Town | 3.91 |
| 23 | West Allotment Celtic | 3.94 |
| 24 | Darlington RA | 3.94 |
| 25 | Darlington 1883 | 3.94 |
| 26 | Birtley | 3.95 |
| 27 | Marske United | 4.00 |
| 28 | Jarrow Roofing | 4.00 |
| 29 | Bedlington Terriers | 4.10 |
| 30 | Newton Aycliffe | 4.13 |
| 31 | Ryton | 4.19 |
| 32 | Ashington | 4.19 |
| 33 | Crook Town | 4.20 |
| 34 | North Shields | 4.21 |
| 35 | Chester-le-Street | 4.25 |
| 36 | Billingham Synthonia | 4.29 |
| 37 | Consett | 4.33 |
| 38 | Brandon United | 4.33 |
| 39 | Northallerton Town | 4.38 |
| 40 | Whitehaven | 4.42 |
| 41 | Guisborough Town | 4.44 |
| 42 | Dunston UTS | 4.45 |
| 43 | Billingham Town | 4.50 |
| 44 | Whitley Bay | 4.56 |
| 45 | Team Northumbria | 4.57 |
| 46 | Alnwick Town | 4.60 |