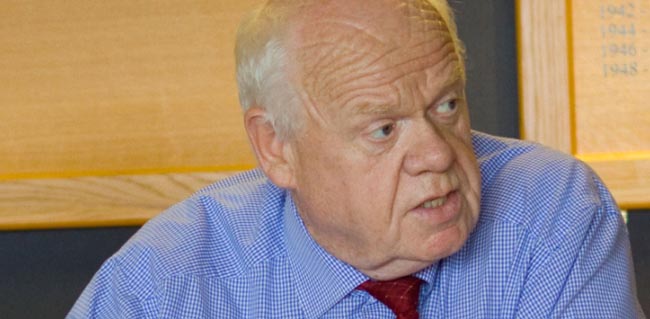 By Martin Walker
A leading business entrepreneur says Chancellor George Osborne's Autumn Report has brought encouraging signs, but also says it's "plastering over the symptoms".
Osborne has announced a fresh squeeze on benefits, as he admitted the UK economy was performing less well than expected.
Austerity measures will be extended to 2018 and Mr Osborne looks set to miss key debt-reduction targets.
He also announced more money for roads and schools and axed a planned 3p fuel duty rise.
But John Elliott, chairman of Newton Aycliffe-based Ebac, insists producing our own goods – instead of continuing to import – will be the only long-term remedy.
"The Chancellor's analogy that the British economy is 'healing' sounds encouraging, but this is just sticking plasters on the symptoms, rather than addressing the underlying problem," said Mr Elliott.
"The Government cannot continue borrowing money it doesn't have from other countries, to buy those nations' exports."
Ebac recently announced ambitious plans to bring washing manufacturing machine back to the UK with a new facility to produce white goods on Aycliffe Business Park, backing up Mr Elliott's vision to stimulate growth by producing more of our own products instead of importing.
He added: "We are perfectly capable of domestically manufacturing many of the goods we consume here in the UK, yet we insist on importing them.
"If we exported an equal value of goods, then it would not be a problem, but we do not.
"It makes little or no economic sense to continue like this, especially when the answer is as simple as taking people out of unemployment and making some of the things we currently import.
"The cost would be no more than the tax payer is currently paying out on benefits for these people."
Some of the highlights of Mr Osborn's Autumn Statement today include:
• Teachers' pay in England and Wales will be more closely linked to performance
• The go-ahead is given for 30 new gas-fired power stations
• An extra £1bn will be spent on road building projects, including the conversion of the remaining A1 dual carriageway from Leeds to Newcastle into a motorway
• The squeeze on benefits will lead to a reduction in the welfare bill of £3.7bn in 2015-16
• Plans to reduce council budgets in England are branded "unsustainable" by the Local Government Association
• A consultation is launched on easing the burden on companies of running final-salary pension schemes
• The private finance initiative (PFI) is to be made more public and less private
• The Lib Dems mistakenly issue a press release attacking Tory tax policies