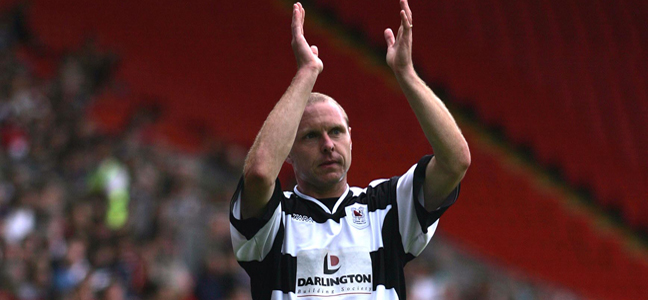 Glen Robertson starts a new feature on Aycliffe Today, looking back at some of the North-East's favourite ex-footballers.
Appropriately, Quakers legend Craig Liddle kicks off in today's debut…
Craig Liddle is simply a legend to fans of Darlington Football Club. The 40-year-old made over 300 appearances for Quakers, before going on to be caretaker manager of the club on four different occasions.
His stock has continued to rise among the Darlo faithful during the club's latest spell in administration, where he has performed the dual role of youth team coach and first team manager. On a couple of occasions he has performed both roles on a Saturday, looking after the youngsters on the morning, before shooting over to the Northern Echo Arena to lead the senior side in the afternoon.
As the club dramatically avoided liquidation last week, Liddle led the club forward. He even re-registered himself as a player, despite having retired seven years ago, as he preferred to put his own reputation on the line, instead of a younger player who wasn't ready for the first team. It seemed impossible for his reputation among Darlo's fans to grow even higher, but it has.
It was as a fierce competitor that Darlo fans first took him to heart. He arrived at Feethams on loan during the 1997/98 season, before signing permanently that summer. He had started his career at Aston Villa, but the Chester-le-Street born defender failed to make a name for himself at Villa Park.
He moved to non-league Blyth Spartans in 1991, where he shone for three years. Like fellow northern defender Gary Pallister, Liddle's spell in the non-league helped him get a dream move to the professional ranks. Like Pallister, Liddle was snapped up by Middlesbrough, then under the control of former England captain Bryan Robson.
Liddle made 34 appearances in four years at the Riverside, including a handful of games in the Premier League. The defender started as Boro completed a famous 2-1 victory at home to heavyweights Liverpool in 1995.
But he was never a regular, and sat out both cup finals that the club reached in 1997. After making just eight appearances by February in the 1997/98 campaign, he was sent to Darlington on loan. After an impressive three months, Quakers manager David Hodgson tied Liddle down to a permanent contract, and Liddle was to stay at the club for the rest of his career.
In his first season he made 51 appearances for his new club. He also scored his first professional goal, as Quakers lost 3-2 to Leyton Orient. Just a week later, Liddle had doubled his goal tally, as Darlo thrashed Mansfield 5-1.
The following 1999/2000 season was one of Darlo's strongest campaigns, and ended with a second visit to Wembley stadium in the Division Three play-off final. To reach the final, Quakers had to overcome bitter rivals Hartlepool over two-legs. Liddle opened the scoring at Victoria Park as Darlo won 2-0, and it was followed by a 1-0 win at Feethams to secure a tie against Peterborough in the nation's capital.
At a rain-soaked Wembley, Quakers dominated proceedings but failed to open the scoring. A 73rd-minute sucker-punch by Posh's Andy Clarke saw Darlo succumb to a 1-0 defeat.
It was the closest Liddle got to promotion during his career. He carried on excelling at the heart of Quakers' defence for five more seasons, in the process becoming only the 10th player to pass 300 appearances for the club. His achievement was marked by a specially produced beer, called 'Liddle's Best'.
Liddles's Darlo career came to an end in 2005, as he was forced to hang up his boots due to injury. He received a testimonial against Middlesbrough to mark his retirement, but a hoax bomb threat meant the game had to be abandoned.
He joined Quakers' back-room staff in 2008 as youth team coach, before being named joint caretaker with Neil Maddison on two occasions and as sole caretaker a further two times, but turned down the job permanently twice.
Liddle was named Darlington's all-time cult-hero in 2005, gaining 70% of the vote in a poll done by BBC Football Focus. He finished ahead of Alan Walsh and Kevan Smith, showing just how revered he was by Darlo's supporters. If the same poll was done today, he'd probably get 100% of the vote.