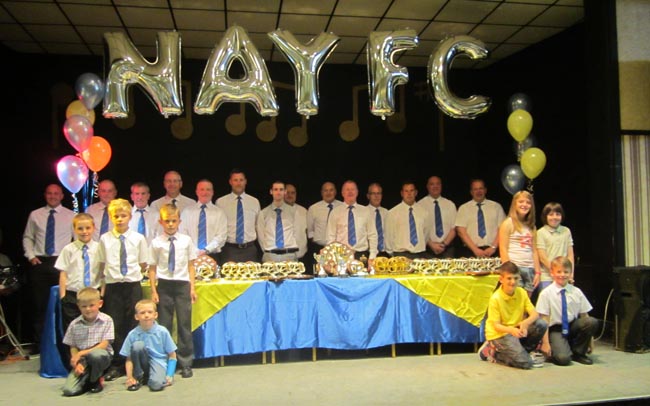 Newton Aycliffe Youth Football Club, one of only 20 FA Charter Standard Community Clubs in County Durham, recently held their Annual Presentation day at the Big Club.
The growth in the number of players wanting to play for the Youthy and the increase in the number of teams representing the club, has meant that a full day is required to reward everyone.
We opened up early afternoon with over 300 people attending to support our six boys, two girls and Adult Soccability mini soccer teams and 30 young boys from our thriving development section together with our guests  from Newton Aycliffe FC, team captain John Close and two  former Youthy Players James Oliver and Mark Wood.
Every age group had excellent seasons but special mention was given to our under 8's who were awarded the TJFA Fair Play award and our Under 9 Falcons who finished runner up in a tight Cup Final.
As every player was introduced to a full house at the big club and each came up to receive their Representative Trophy, the cheers and roars could have been heard in Aycliffe Village.
With extra awards for Player of the year, Top Goal Scorer, Managers Player, and Most Improved there was plenty to cheer about.
This year the football club booked a photographer to ensure every player had their special moment captured.
After a fantastic and enjoyable 2 1/2 hrs it was on to the games to round of a memorable day for our youngest players.
After a few hours break we returned for the evening presentation for our 7 boys and 2 girls 11 a side teams.
We were again supported by Newton Aycliffe FC with chairman Gary Farley and player-coach Danny Mellanby.
Success achieved for our older age groups were  the under 13 Eagles who gained their 3rd promotion in four seasons, Under 13 girls finishing runner up in the cup final and the under 11 girls finishing league runners up
As everyone picked up their awards the huge crowd were on their feet cheering every single player.
As the climax of the night arrived our Mini Soccer referee of the year was awarded to Lydia Simpson and Mark Katoroz receiving Referee of the year.
Goalkeeper of the year went to  Jamie Cockfield of the under 9 Eagles and secretary award was given to Debbie Moore for all her admin work  for the football club.
The final award of the evening was the much anticipated Manager of the Year with so much success it was wide open this year.
As Berni Borsberry explained our manager of the year is not just about success on the pitch but hard work around the club, helping out with other age groups, coaching in schools and working hard with fund raising and that he was proud to announce that this year it was awarded to Mike Pearson of the under 13 Girls  and as the cheer went up it was obviously a very popular choice.
As the evening drew to a close thoughts had already turned to the start of next season with pre season training starting for most in July with all teams training at the Oakleaf Sports fields in Newton Aycliffe, as well as playing all our matches at the venue. Winter training facilities are provided at Greenfield Community College 3G pitch and Sports Hall.
If you are a boy or girl from 4 yrs old to 18 yrs old and want to be part of this well respected junior football club check out our website www.naycafc.co.uk and follow the contacts page.