By Donna Campbell
It was another full week of racing this week for the members of Aycliffe Running Club.
The racing week began on Thursday June 28 when Michelle Jane was on the only member attending the Angel View Race which takes place close to the Angel of the North.
Michelle was fifth female in this race in a time of 37.55. Her two daughters also took part in the fun run there making it a real fun family night out.
Many members joined in the local parkruns. There was only one PB at parkrun this weekend and this went to Sam Baronowski at Shildon Parkrun with a time of 35.08.
On Sunday July 1, there was a significant turn out for the club at the Ali Brownlee 5k in Middlesbrough. This is a very popular race with the members of ARC.
There was a good turn out for the race and what was a very hot day. It begins outside Middlesbrough FC's Riverside Stadium and incorporates a loop around the Middlesbrough College area before return to the stadium area.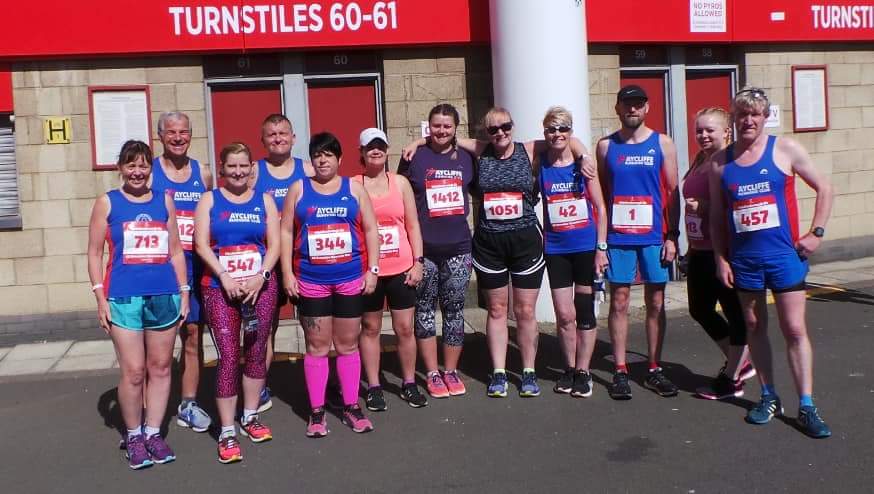 It is a relatively flat course but Just before reaching the stadium racers are sent out across the flyover and turned at the bottom before coming back over the flyover (a little sting in the tail close to the end).
All racers then finish in the stadium where the spectators are waiting with their cheers for the runners.
Those that took part were: Richard Campbell (18.54), Richard Holland (20.02), Dave Blewitt (21.12), Trish Kay (24.01), Alan Kellett (25.34), Ian Baronowski (26.07), Anne Kellett (26.21), Gemma Holland (27.05), Donna Campbell (29.31), Jane Burnside (30.31) and Sam Baronowski (34.29).
Mark Bainbridge was the only member who travelled to Northumberland to take part in the Run Northumberland Coquer 10k. Mark was 12th finisher in this race in a time of 46.47.
Also on Sunday several club members took part in the Race for Life 10k in Hartlepool. Well done to Mandy Heywood, Eve Doe, Lindsey Brown, Denise Evans, Susan Clark, Carol Ann Stenger, Jane Quigley and Bev Phillippo and those who accompanied them.
There was then more racing on Monday night at the NEMAA League at Monkton Stadium.
Two members participated. In the mile race Alan Wilks was 1st 0/70 in a time of 6.25 and Ray Todd completed this in 9.51.9. Ray then completed in the 200m in a time of 48.3 and Alan competed in the 800m where he was 1st 0/70 in a time of 3.07.7.
The final race of the week was the Bridges of Tyne 5 miles race which took place on Tuesday July 3 on another hot night for racing.
We had five members participate in this race (four of them are pictured, top) although Paul Dalton was racing under the name of his first team club.
There were some really good results in this race. John Surtees was first home for the club in 28.43, Paul Dalton 31.04 Tracey Surtees 33.56, Michelle Jane 33.58, and Michelle Zamir 36.38.