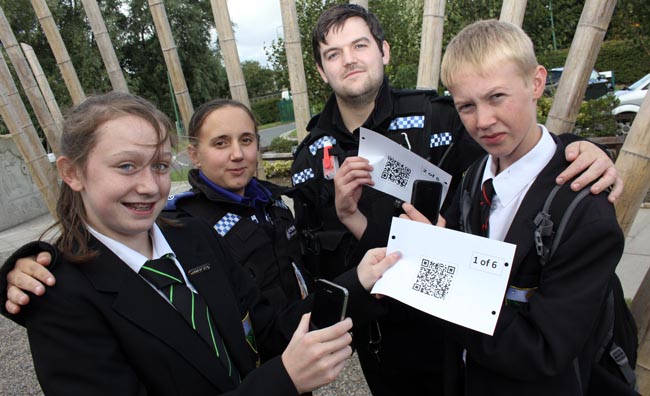 By Martin Walker
A multi-agency initiative has been launched to educate young people in Newton Aycliffe about alcohol using QR codes.
The Newton Aycliffe Neighbourhood Police Team has commenced a three-phased initiative to coincide with Alcohol Awareness Week.
The multi-agency initiative uses modern-day technology in an educational approach to reduce the effects of alcohol on underage youths.
The QR codes – which can be scanned by a smartphone before taking you to information relating to alcohol awareness – will be attached to trees, lampposts and fences across the town.
The initiative, launched at Greenfield Community College on Wednesday, has been organised in conjunction with 4real, County Durham Children and Young Peoples Drug and Alcohol Service, Durham Alcohol Harm Reduction Unit, Durham & Darlington Fire & Rescue Service and local schools.
The task force hope young people who scan the QR codes will think about the long-term effects and consequences of drinking underage and arson and make better decisions.
NPT Sergeant Mark Edwards said: "With our partners, we're dedicated to addressing anti-social behaviour including those incidents exacerbated by the misuse of alcohol and this initiative demonstrates our commitment to the community.
"We realise that education is key to resolving long term issues and by engaging with local youths I believe that this is a significant step in the right direction."
Sgt Tim Robson of the Alcohol Harm Reduction Unit added: "Our focus remains on that of preventing young persons from accessing excessive amounts of alcohol in the early years of their development.
"QR codes are innovative and frequently used, and the positive messages which are sent out in this operation will hopefully be taken on board by those young persons who undertake excessive consumption of alcohol.
"If the messages influence only a small proportion of its audience then there will consequently be a reduction in anti-social behaviour, alcohol fuelled crime and above all the improved safety and welfare of young persons."
4real is a free and confidential service for young people up to the age of 19. The contact number for 4real is 03000 267 567 should any young people want information.
● Pictured above is 15-year-old Tanisha Waters and 14-year-old Kyran Level, both of Greenfield College, with PCSO Amy Jorgeson and SC Liam Callaghan.