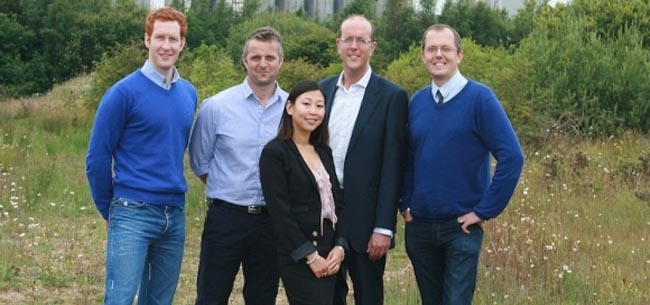 By Martin Walker
A new £8m biogas centre for Newton Aycliffe has been given the green light.
New firm Emerald Biogas have won planning permission to construct an anaerobic digestion facility on Aycliffe Business Park, which will produce 1.4MW of electricity every year from food and farm waste.
Energy generated from the site, which is expected to be ready by the middle of 2013, will be enough to provide electricity to 2,000 homes.
Emerald Biogas will be the North-East's first commercial food waste AD facility, utilising a proportion of the 800,000 tonnes of food waste generated across the region to generate renewable energy and fertiliser.
The first phase of the new facility will process up to 53,000 tonnes of food waste collected from across the region annually.
The process removes all traces of plastic, glass and metal before pasteurising the waste to meet stringent regulations.
The waste is then transferred to large digestion tanks where anaerobic digestion takes place – a natural biological process within a fully sealed, air free environment.
Millions of bacteria 'feed' on the organic fraction of the waste to produce a methane rich 'biogas', which can then be used for heating or to produce electricity. Emerald Biogas will produce 1.4MW, enough to power almost 2,000 homes.
The excess heat generated during the process will also be used across the Ayclife Business Park where the facility will be located.
This was a key factor for the Emerald Biogas team in selecting the site. It was vital that the energy produced would be fully utilised and this was the rationale for an industrial location as opposed to a rural site.
In addition to the energy generated, the resultant digestate, which is high in nutrients, will be supplied to land owners within a ten-mile radius.
Emerald directors Antony and Adam Warren are owners of the successful animal by-product, food waste collection and recycling business, John Warren ABP, while fellow director Ian Bainbridge owns a diverse farming, land and resource management, and plasterboard recycling business, Agricore.
Antony said: "Emerald Biogas is the first commercial plant of this size in the region and we are delighted to have secured the funding and support for the project.
"By harnessing our knowledge of the food waste, agricultural and renewable energy industries and proven track record in terms of collection and recycling, it was a natural progression for John Warren ABP and Agricore to diversify and create an AD facility capable of providing renewable energy and digestate to be utilised by the agricultural community."
Ian added: "The project has been planned for some time and to have secured the funding from HSBC, WRAP and the Rural Development Programme for England is testament to the commercial viability and the need for such a facility in the North.
"We expect the AD plant to be up and running in mid 2013 and have ambitious targets in terms of further energy production capacity and are committed to ensuring the facility delivers tangible benefits to Aycliffe Business Park and to the wider community."
● Pictured Above (left-to-right): Ian Bainbridge of Agricore; Adam Warren of Warren ABP; Katy Cheung of UNW; Mark Simpson of UNW; and Antony Warren of Warren ABP.