Students from Greenfield Community College have travelled to Krakow, Poland as part of their History studies.
The Year 9 and 10 students travelled to Hotel Wilga, which was lovely place by a little tributary river near Krakow where they could take in some of the amazing architecture of this beautiful Polish city and some Polish ice cream!
Staff and students ventured into Krakow's Stary Miasto (old place in English) to view the stunning cloth hall and buildings in the old town, learning more about the culture and history of the city.
They then travelled to the site of one of the most serious crimes in the history of the world. The Nazi concentration/death camps of Auschwitz camp I and Auschwitz camp II-Birkenau where over 1 million Jews and other ethnic minorities were murdered by the Nazis.
The staff and students spent more than two hours in stunned silence while the tour guide described some of the countless atrocities that took place there.
What really hit many of the young people was seeing the two tons of human hair. It moved many of the students and teachers to tears.
Subject leader Mr Johnson said: "For me it's difficult to put into words but deeply moving and harrowing place which shows where racism can go to its ultimate extent.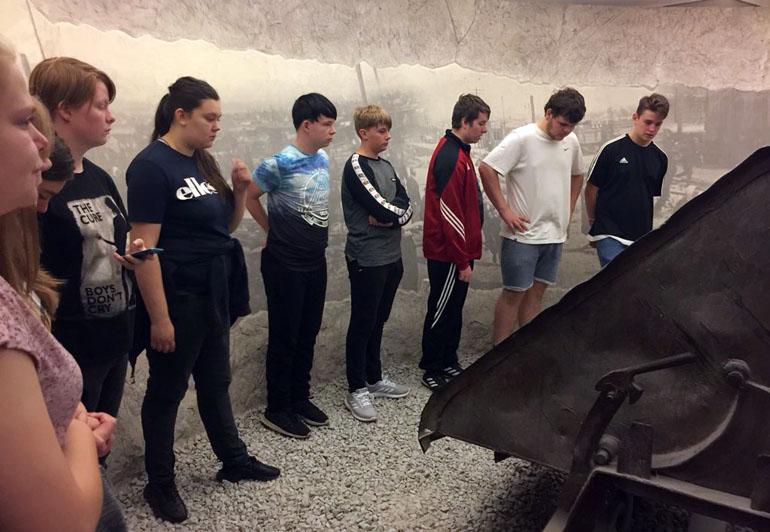 "Just to think from that initial thought in someone's mind that someone is inferior, that hate can grow to the extent of the horrors that were seen in this terrible place. People need to come here so that this type of thing doesn't happen again."
The trip also included a river cruise along the River Vistula seeing the stunning Wawel castle on the banks of the Vistula, which was the HQ for the Nazi Governor of southern Poland in World War Two, and earlier the seat of the Polish Kings.
They also visited the Jewish quarter of Krakow and learned about the efforts of Oskar Schindler's metal manufacturing factory where he managed to save the lives of so many of his Jewish workers ('Schindler's List').
The overall experience was rewarding and reminded students of the resilience that was shown by individuals when faced with such adversity and the impact of this period in history.
This was just one of the valuable opportunities that have been available to students at Greenfield Community College, during the summer students were given the opportunity to visit France to learn more about history and the WW1 Battlefields.