The Tees region's fastest growing businesses have been publicly acclaimed in a new awards ceremony.
The inaugural VelociTees awards – organised by Aycliffe Business' sister publication Tees Business, in partnership with headline sponsor Azets – saw around 140 people attend Wynyard Hall to recognise our area's best business performers, both in turns of turnover and job creation.
Those attending the ceremony heard how all those nominated had recorded admirable results, despite testing economic times.
Eight awards were given out – small business, SME and large business prizes in terms of turnover and job creation, plus awards for the overall winner in each category.
And it was a double delight for Middlesbrough-based games developer Double Eleven, who won both the Large Business and Overall awards in the turnover category, having recorded a 355 per cent growth rate to £45.1m.
Double Eleven's finance and commercial director, Kimberley Turner, said: "We've had amazing growth. And the year they looked at from Companies House was our biggest step up that we've ever had.
"That year, throughout 2021, was the launch of a really big game that almost broke us on numerous occasions. It was a game we'd invested a lot of money in and it went on much longer than we expected, but we always knew it was the one that would do the best.
"So, in true Double Eleven style, you grit your teeth, keep your head down, keep going and it's paid dividends – and it still continues to do so."
And as for the future? She smiled: "Things are going really well. When we got that £45.1m turnover year, I thought there'd be no way we'd be able to sustain that. But I'm working on those financials at the moment and we will top that, which is insane.
"You can't do that sort of growth, from £9m to £45.1m, continuously, but to continue to show growth is amazing and I'm really pleased we've been able to do that."
And picking up the Overall Turnover prize, CEO Lee Hutchinson, pictured below, felt it was testament to the firm's policy of staying local and developing talent on Teesside.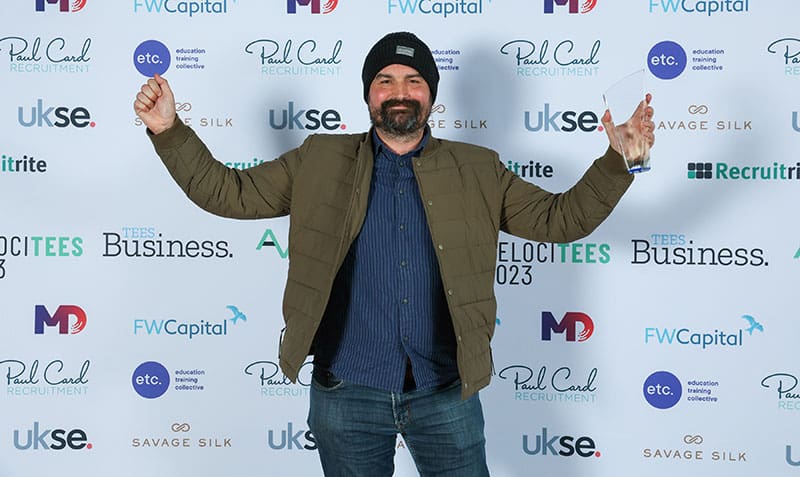 He said: "Through the years, there's always been someone who would turn round and say 'How do you get the staff in Middlesbrough? And how are you going to get people to come to the Teesside area?'
"Usually, people are shocked when they hear how many people we've managed to bring here and about the talent we've grown here, so we're super happy when it comes to something like turnover and staff because after all, that's what business growth is.
"I'm so happy to do it on Teesside and prove people wrong."
And like Kimberley, Lee was upbeat about Double Eleven's growth prospects.
He said: "Our growth is funny, really – it' s not an upward trajectory all the time. We tend to be like a long, deep staircase where we get to a certain level, then we reinvest, and in two or three years we jump up higher.
"There's going to be a lot of reinvestment and I would expect what we've got now will double within the next five years."
Tees Business director Martin Walker, who also owns and runs Aycliffe Business and Aycliffe Today, said: "The inaugural VelociTees were a fantastic celebration of our region's fastest-growing businesses.
"They represents an incredible range of businesses, young and old, relative newcomers and long established, an incredible variety of sectors.
"Our thanks to Azets for their close work with us as partners on this ground-breaking project, but also to all of our category sponsors, who helped make these first awards a reality."
The full list of VelociTees winners:
Turnover – Small (£250,000 to £3m)
Sponsored by UKSE
Radical Forge, £306,150 to £1,094,321 – growth of 257%.
Turnover – SME (£3m-£10m)
Sponsored by FW Capital
Vistech Services, £4,894,204 to £7,757,531 – growth of 58%.
Turnover – Large (over £10m)
Sponsored by Savage Silk
Double Eleven, £9.9m to £45.1m – growth of 355%.
Turnover – Overall Winner
Sponsored by Azets
Double Eleven
Job Creation – Small (10-50 staff)
Sponsored by Middlesbrough Digital
Phoenix 2 Retail, 9 to 33 – growth of 267%.
Job Creation – SME (51-250 staff)
Sponsored by Paul Card Recruitment
Wilton Engineering, 58 to 125 – growth of 115%.
Job Creation – Large (over 250 staff)
Sponsored by Recruitrite
Vistech Services, 154 to 270 – growth of 75%.
Job Creation – Overall Winner
Sponsored by Education Training Collective (Etc.)
Phoenix 2 Retail.